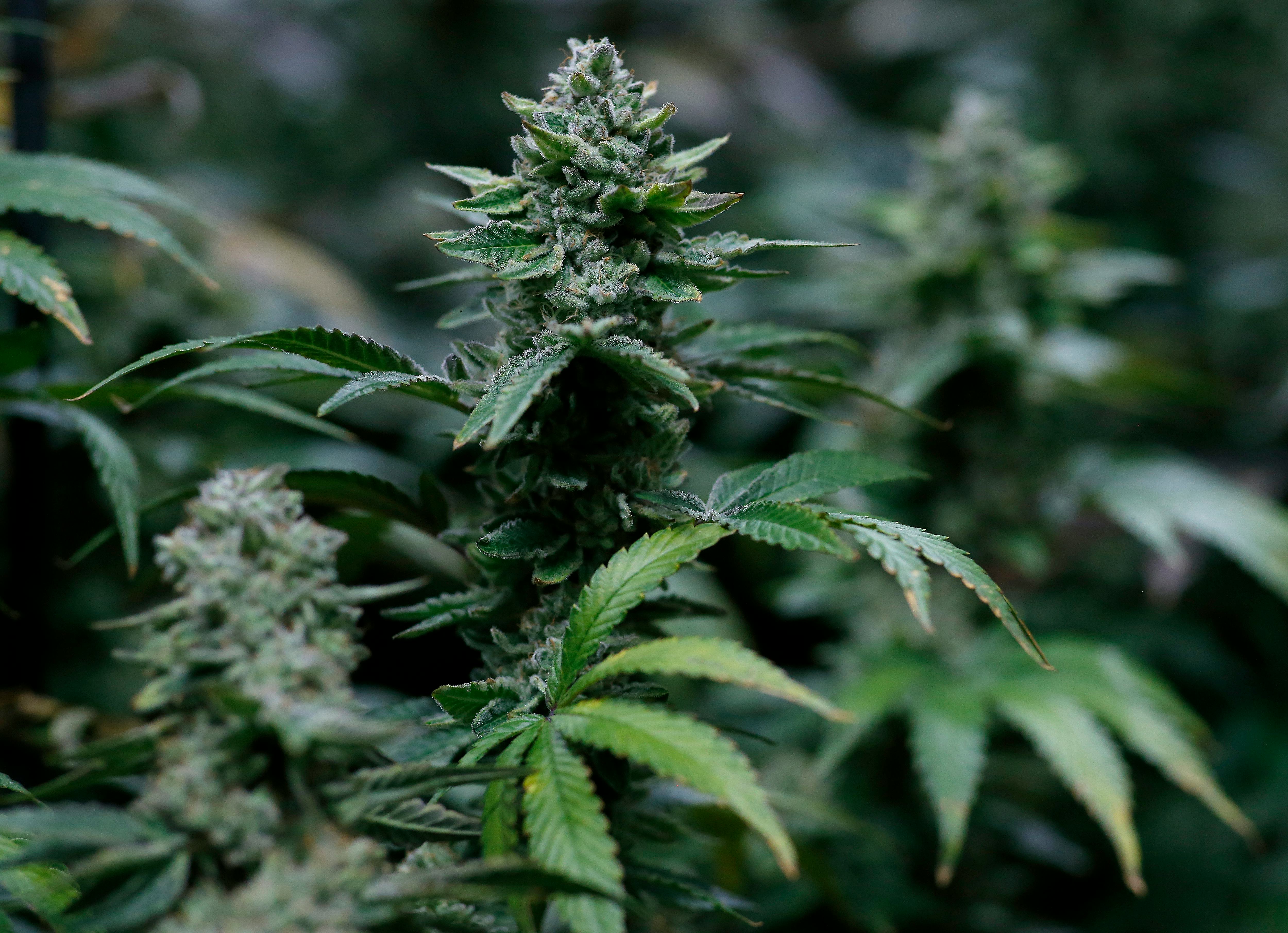 If you buy seeds from a seed bank, look for those labeled "feminized" to ensure they give rise to female plants, Johnson says. But if you're a total newbie, he suggests buying clones, which are cuttings from a "mother" female plant, available at some dispensaries, as well as at nurseries. Not only are they easier to obtain, "they're easier to grow. You get a clone, and you transplant it to some soil."
Cannabis cultivation laws vary widely state-by-state. Also, we can't stress this enough: Growing cannabis is illegal in a lot of places, and the penalties — which include steep fines and prison time — can be much worse than possession, since growing can imply an intent to distribute. Black and brown folx need to be especially scrupulous about heeding these rules, since law enforcement targets us way more than white people for weed-related charges, even if we consume it at similar rates.
Planting
Your cannabis will be ready to harvest at around October. You'll know they're ready when the buds "start to get really, really swollen and packed pretty tight," Johnson says. But it can be hard to tell if you're a beginner. Many growers say that if you think your plant is ready to harvest, wait two weeks, since many newbies tend to harvest too early. Or, you could share a photo of your crop on a forum and ask more experienced growers to weigh in.
Whatever you do, don't plant your clones in the ground. They'll run rampant, and "you'll have pounds of weed in your house," Johnson says, recalling the trays of weed atop his kitchen table when his crop grew wild. "You don't need the stress of plants getting out of control, growing over your fence." If your neighbors can see them, they might complain about them, and having too many plants could get you arrested.
Before you get started
If you use organic soil, all you'll really need to do is add water, Johnson says — but don't overdo it. The number one mistake he sees new growers make is watering their plants too often. In general, "watering every day is too much. The rule is, if you pick up your plant, and the pot is heavy, then it has a enough water. If it's light, it's dry, then you need to water." You could also stick your finger knuckle-deep into the soil; if it feels dry, add water.

Sticking to that schedule is key, he added. "Say you're at day 30 of the flowering cycle and you come into that closet when it's supposed to be dark and turn a bunch of lights on. You're going to throw the whole cycle off and that's the end of that. It only takes 10 seconds."
To harvest, many growers begin by removing the leaves of the cannabis plant with trim scissors, followed by the buds (using pruners). "We call this bucking," Lipton said. "Gloves are also extremely important for sanitation reasons as well as to keep your hands from becoming sticky with the resin from the plant."
"Growing cannabis in tight spaces is not my usual recommendation," said Stephen Lipton, the cultivation manager at The Farm Recreational Marijuana Dispensary, an award-winning recreational facility in Boulder, Colorado, specializing in what it calls "craft cannabis." At any given time, Lipton oversees close to 15,000 plants across seven different facilities in Boulder County. "If you have a really tight space and it gets too hot or too humid, you're going to have big trouble."
Presented by Florida Man DIPA
Trigger the flowering cycle.
The last step involves curing the bud. "Curing is just as important as the growing process," Lipton added. "We do a slow cure, which means that it takes anywhere from three to six weeks depending on variety." Temperature and humidity play a large role during cure and must be maintained to ensure a great final product. "Our actual cure process is somewhat of a secret, so I cannot share the fine details," Lipton said. "But it's an art form and extremely crucial to our success." The reason growers cure bud after harvesting is that it creates a smoother smoke and increases its potency. Detailed recommendations for proper curing can be found online, here and here.
Space: 3 x 3 x 5 feet, minimum. "The bigger the space, the better. With all the lights, closets get hot," Lipton said. That said, closets help growers control light pollution when the plant is in its flowering cycle — one of the main reasons home growers favor them over larger spaces, such as living rooms. "If you have a spare bedroom, or a basement even, you can just use that and close the door," Lipton said.
For some people, cannabis cultivation is a hobby. Others a life-long passion. But it's unique in its vast demographic appeal. "Everyone I know grows," Lipton said. "There are people in their 20s doing it. I know people in their 60s. It's a fun thing for people. You don't have to be afraid anymore." Here are Lipton's tips on growing your first plant.
Harvest and cure.
Light: 2,200k. "For a closet set up, I would recommend a 175-watt HPS light," Lipton said. "Some people try to use fluorescent lighting, but I wouldn't recommend that. You're just not going to get a very good outcome. Nowadays, HPS lights can just go right into your home outlet, and you'd just need a timer [to set the intervals]. Position the light directly overhead. They can be pretty powerful, so you're going to want it at least two feet from the top of the canopy [to prevent the plant from overheating]."
Even with a healthy clone, however, cultivating cannabis can be a long and arduous process — especially in tight indoor spaces. "A lot of people think growing is easy, but it's not," Lipton said. "You have to be really on it. Not everyone has success, obviously."
Another way to make things more comfortable for your plants is with good air circulation.
"Airflow is also a key element of raising healthy, strong cannabis plants, as it mimics the natural environment and keeps indoor plants resilient, as well as helps deter mold," explained Bill Campbell, director of cultivation for cannabis grower CAMP.
And while light is critically important to the success of your indoor home grow, we'd be remiss if we didn't mention dark, too. Photoperiod cannabis plants need 12 hours of uninterrupted darkness in order to move out of vegetative growth and into the flowering stage, so if you're not able to control overnight light pollution in your grow room, think about an autoflower variety instead.
Seedlings and maturing plants in the vegetative stage of growth need lots of light. These plants should get at least 12 and ideally 18 hours of direct light per day, which means if you're growing a photoperiod plant and relying on sunshine alone, you need to time the growing cycle to maximize the increasingly long daylight hours of spring and summer.
Temperature and humidity
Humidity needs vary throughout the plant's life. Seedlings and baby plants tend to need humidity levels of about 70%. Plants in the vegetative state can tolerate humidity in the 40% to 70% range, though experts agree that around 55% is a good happy medium. During the flowering stage, it's important to have a lower humidity of about 40%.
"Food items around the house could be composted and mixed into the growing media, but proper composting is critical to get those nutrients bio-available to the plant's roots. People planning to compost or vermicompost should do some research on their setups to maximize the conversion of food waste into usable plant nutrition," explained Michael Esposito, a scientist and microbiologist at MCR Labs.
This intermediate guide will cover the foundations of growing cannabis indoors and include some helpful tips and tricks for making your indoor grow fun and educational.
Water
You'll need to take special care of your germinated seed, since this is a sensitive time in the plant's development when it's particularly vulnerable to pests, infection, and drastic changes to its environment.
Remember, when you're directly changing humidity by adding a humidifier, dehumidifier, AC, or heater, do it gradually. "We need to have consistent temperature and humidity so the environment is stable for the plant. Sudden dips or spikes will affect the plant and can lead to stress," added John Hunt from cultivation tech firm Purpl Scientific.