Carbon filters are classic cannabis filtering devices. Not all carbon filters work the same when it comes to filter power and lifespan; you may want to pick a high quality device – you may need to shell out a bit more money. You'll also need to pick one that's right for your extractor or else it won't work correctly.
One of the best anti-odor brands out there is called ONA; they produce many different products including air fresheners as well as products that can be sprayed to get rid of the smell of cannabis in a flash. They also come in blocks, which are more compact than the gel format, which slowly release a combination of pleasant, nice aromas that are perfectly safe.
Neutralizers are products created from various different plant extracts and chemical products. They are capable of trapping, modifying or even destroying cannabis odor particles with incredibly efficiency. These types of products usually come with a small electric diffusor that is used to heat the mix and spray it around the room.
Odor neutralizers
If your grow tent walls seem to be filling up and expanding outwards your intake fan is much too strong and your extractor fan isn't strong enough to absorb all of the new air being taken into the tent. When growing in a room it's much harder to realize that this is an issue – you'll know when you start to small cannabis outside the room.
One of the best ways to guarantee total odor filtration and stop the aroma of weed getting out of your room or grow tent, is to use various products at the same time. Let's have a look at some examples:
Anti-odor gels
Before you actually start growing cannabis indoors you'll need to make sure that air gets in and out exactly where it's supposed to; any leaks would be disastrous and would defeat the point of hiding the smell. Once you've checked everything and set up your filtration system (which needs to be strong enough to filter the amount of air in your grow tent or room) you need to make sure that your extractor and air intake system is creating negative pressure, which makes sure that all of the air inside the tent or room will be sucked out via your extractor fan rather than leaking out anywhere else.
ONA gel products can be used inside cannabis grow rooms or tents without damaging the plants at all. These products are generally used to back-up carbon filters by placing them inside your ducting. They're also used to camouflage the aroma when drying cannabis or for areas near your grow room like the hall or your garage. You can also acquire sprayers and the like so that you get the absolute most out of it.
Smell is the easiest way to give away your garden, and there are easy measures you can take to prevent it from happening.
You can grow great cannabis in your closet, but we recommend you go with one of the other options.
Growing Weed in an Apartment: The Smell
One thing I love about grow tents is they also are great at preventing light leaks.
Because the number one rule of having a cannabis garden is don't tell anyone about your cannabis garden.
Closest
If you want to learn about how to set up the ventilation for your grow room, you can read about it here.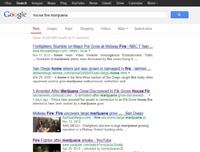 You've told me you're looking for a complete guide to growing marijuana that covers everything, from beginner to ultra-advanced.
To the outside world, it should appear as if you're doing everything as normal. As paranoid as it sounds, you should assume that anyone who sees you doing growing related activity will know what it is and report you.
Remember, the only thing better than increasing the potency and yields of your harvest is making sure you get to keep said harvest.
Total care explained step-by-step… indoors… outdoors…
Electrical Safety
Quiet Electronic Devices – Get devices that work without making noise:
In the vegetative stage, some plants have a cannabis smell from the beginning, but most strains tend to make a clean, fresh smell akin to the gardening section in a home improvement store. But once plants get bigger and especially after flowering kicks in, the smell can range from tame to "WHAT IS THAT SMELL?!"
Luckily, this can be easily corrected with several products like carbon filters for in the grow room, or odor neutralizers for living spaces. Some growers use diffusers or candles to help cover up smells on an emergency basis. Additionally, you can try growing cannabis strains that are known for having a more neutral smell (like the ones listed below). The goal is to make sure that the smell stays within your grow space, and doesn't find its way into your living areas.
Sound
If you've ever gone to a forum for advice on growing cannabis, you'll know that there is no shortage of opinions on what you can do to become a better grower.
When buying any kind of electrical device, look up reviews on the product to make sure it runs quietly. A low-quality exhaust fan or air pump will cause people to be suspicious since they make lots of noise and typically run all day and night.