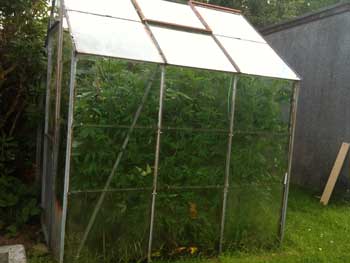 Plants need to drink, but water is way too heavy to carry long distances. Therefore, you're looking for a spot with easy access to fresh, clean water. If there's no hose, you're looking for a brook or stream with moving water. Some growers collect rainwater near the grow site. Don't use water that looks or smells bad to you.
Camouflage your plants!
Even if you're certain no one will be around except yourself, you should still try to camouflage your plants as best you can by using the tips given above.
Bonus: Outdoor Plant Health
Consider that people might be able to smell your plants. Some plants smell a little "weedy" in the vegetative stage, but by the time your plant is flowering and getting close to harvest, the smell can be overwhelming, especially with certain "high-smell" strains.
What if you can't grow on your own property, and need to grow in a more remote spot? A good outdoor grow spot has a few important factors….
Outdoor Stealth – Choosing a Safe Place to Grow Outside Your Property
Not only is this extremely not stealthy, light from the window will likely prevent the plant from flowering (making buds). Light pollution is a common problem when growing outdoors on your own property. Plants need complete darkness at night to start making buds!
Some growers put plants in a greenhouse or other outdoor structure that lets light in but obscures the inside from view.
Indoor growers have to provide all their own light, typically by using specialized grow lights. However, grow lights produce heat and use a lot of electricity (how much electricity does it take to grow weed indoors?), and indoor grow rooms need a space that's easily hidden to visitors yet has easy access to water.
Remember, even if a person doesn't take your plants right away, many experienced thieves who understand the life cycle of cannabis plants will wait until just before harvest before they steal your plants.
The first thing you'll need is a place to grow. I recommend getting yourself a decent grow tent. They're cheap, made to grow inside of and can be put up and taken down quickly by one person. Some tents come with packages that include all kind of complicated hydroponic equipment. Your best bet is to purchase only what you need inside the tent and to learn how to grow weed without the expensive plastic. Some even have separate chambers for vegetative growth and cloning, making them perfect for people living in one-bedroom apartments or studios with limited room to grow.
How To Grow Weed
A key part of learning how to grow weed is mastering drying and curing techniques. You do not want marijuana to dry too quickly or too slowly, as the ideal drying time for a healthy and flavorful marijuana plant is 10 to 14 days. In this video, you will learn the perfect temperature and humidity to dry and cure weed, as well as pro tips that will teach you how to grow weed and trim your plants like an experienced veteran, leaving you with a grade-A product.
Tips on How to Grow Weed: The Hydroponic Garden
Attention to detail is essential if you are a beginner who is trying to learn how to grow weed. Even the most inconsequential detail could be the difference between a healthy plant and a dud. In this video, learn about the best type of container to use to grow your marijuana plant. We recommend a "smart pot," which is a container that is made of breathable fabric that allows the roots of your plant to grow much larger. Larger roots mean a larger marijuana plant, which means a more bountiful weed yield when the time comes.