Depending on where you live, if you got a healthy clone from a dispensary today, there's nothing to say you couldn't just plant it in nutrient-rich soil in a sunny spot, and have flowers in the fall. By then, you will have read all about how to harvest, dry, and cure them.
I'm a lazy gardener, not a farmer. This is the same approach I'm taking to growing my own weed.
Just like those of us planting tomatoes in the spring, weed gardeners are faced with a choice between starting with seeds or small plants. In the cannabis world, many start with the sprouted cuttings commonly known as "clones." While sprouting a seedling in a wet paper towel has its charm, clones leave far less margin for error.
I do not have a particularly green thumb. Any gardening success I've had—mostly with the pots of cherry tomatoes and herbs on my patio—has been due to good luck and strong sun.
The minimalist's setup
"It's like a recipe," says Hicks. "There are certain parts that have to be done correctly and at a certain time to get you from point A to point B to have product at the end." (See: Willamette Week's accidental "Pot Massacre of 2017" due to heat and over-fertilization.)
What's more, with a clone you can be sure you're obtaining a female that will produce desirable flowers, also known as buds, if you play your cards right. ("Male plants are the bane of marijuana growers," wrote Mel Frank in the Marijuana Grower's Insider's Guide. "They're necessary for breeding and hybridizing, but otherwise they're in the way.")
More than 16 hours a day of light will keep plants in their vegetative state, when they're growing stronger and bushier without producing flowers. So if you wanted your outdoor plant to get a little bigger before it flowers, you might prolong its vegetative state by bringing it into a warm closet with the lights on every night.
Clones vs. seeds
In places where recreational marijuana growth is legal, you can find clones at cannabis nurseries, farmer's markets, dispensaries, and even delivery services.
If you live in a place where it's legal, here are some basics to know before you get started: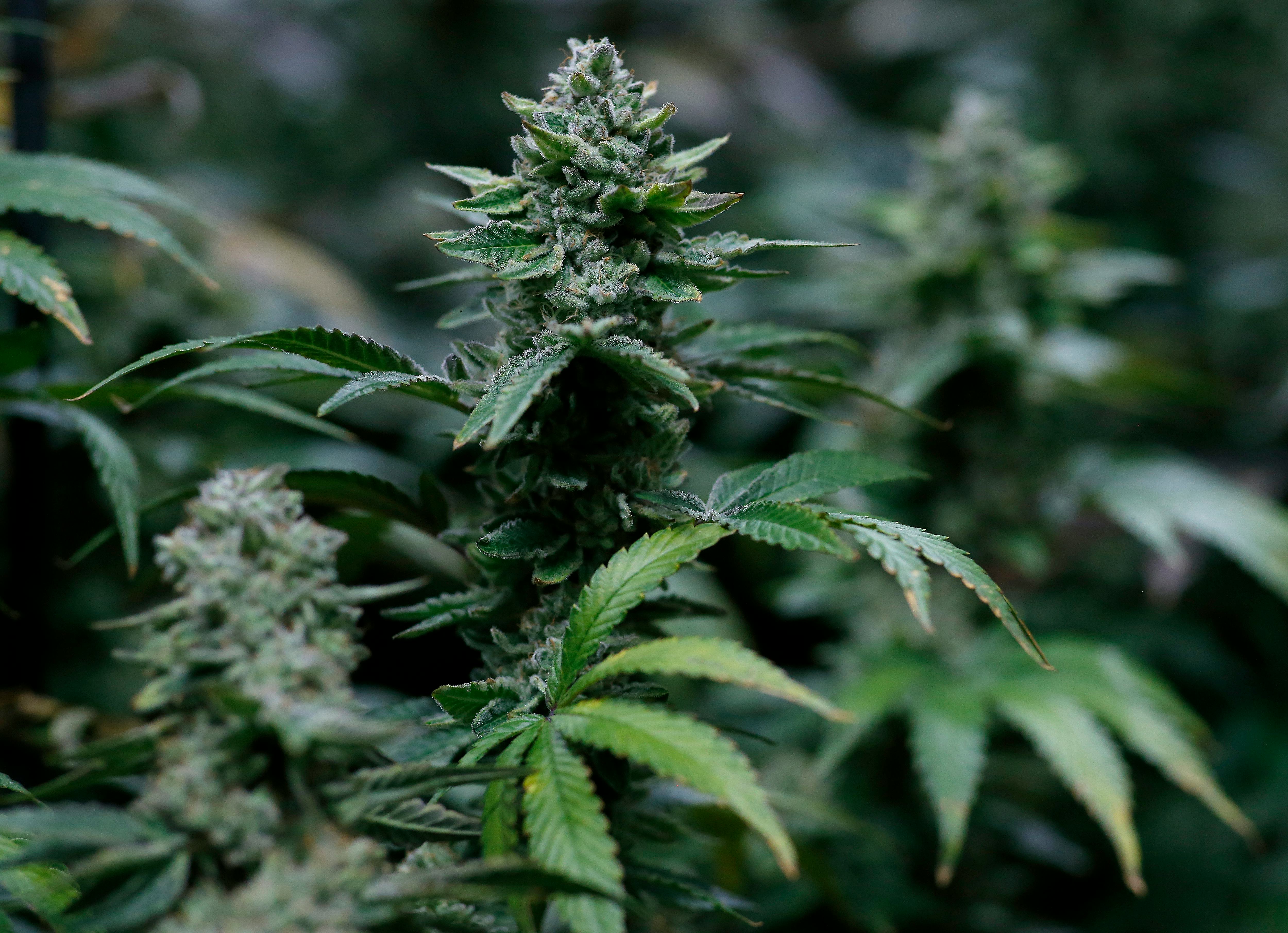 To check if your cannabis is ready for trimming, perform a break test on each branch. If it bends so much it nearly breaks, then it's ready, and if it breaks right away, it might be overly dry, but still totally usable. Trim off the buds and seal them inside a mason jar for curing, opening it periodically over the course of about four weeks to let moisture escape. Johnson outlines a detailed schedule on his website, including instructions on how to look for mold.
While you can absolutely grow cannabis indoors, outdoor cultivation is much simpler and cheaper, says Ron Johnson, author of How to Grow Organic Cannabis: A Step-by-Step Guide for Growing Marijuana Outdoors, who also runs the website The Cannabis Gardener. "The sun is free," he tells Mic. "You don't have to pay hundreds of dollars a month in electrical bills." An outdoor garden probably won't allow you to turn over product fast enough, but it'll suffice if you just want to grow weed for yourself. Plus, it's gentler on the planet.
If you buy seeds from a seed bank, look for those labeled "feminized" to ensure they give rise to female plants, Johnson says. But if you're a total newbie, he suggests buying clones, which are cuttings from a "mother" female plant, available at some dispensaries, as well as at nurseries. Not only are they easier to obtain, "they're easier to grow. You get a clone, and you transplant it to some soil."
When the pandemic hit, many of us turned to quaint pastimes to soothe our existential dread, whether it was baking sourdough, knitting, or doing jigsaw puzzles. If you want to expand your repertoire of distraction methods with an activity that still has that quiet, homey vibe, but with a bit more of an edge, consider growing your own weed.
Upkeep
Cannabis plants can be either male or female. Female plants yield the plump flowers, a.k.a., "buds," that we know and love, brimming with psychoactive compounds like tetrahydrocannabinol (THC, which gets you high), Modern Farmer explains. Male plants yield much smaller flowers, which people typically don't consume. In other words, if you want to actually indulge in your crop, you'll want female plants.
Johnson notes that the outdoor grow season lasts from around April to October, meaning if you plant seeds now, they'd still yield flower, but not much. Since it's late in the season, he suggests buying a large clone, which will have more branches and therefore yield more flower.
There are different harvesting methods, but Johnson cuts the whole plant at the base and hangs it upside down with some twine in a dark room at a temperature of around 70 degrees Fahrenheit. Add a fan for airflow — you definitely don't want the room to be humid, which will cause mold to grow, rendering your crop unusable. It'll probably take around a week to dry.
Before you get started
Don't go overboard, though, he warns. Start with growing three plants in five-gallon pots. This way, if one dies, you'll still have two plants, and the pots will limit their growth. A general rule of thumb is that they'll grow one foot for every gallon of soil. He recommends mixing your own organic soil, which he explains how to do on his website and will save you the headache of adding nutrients or pH testing. "The soil is what we call alive," he says. "It's always breaking things down to replenish nutrients that are missing." But if you can't mix your own soil, or don't feel like it, you could buy organic Pro-Mix soil, which Johnson says many outdoor growers use.
Do your homework and read up on the laws in your state. Some states prohibit growing cannabis, while others, like my home state of California, permits anyone over age 21 to grow cannabis, but only up to a certain number of plants. NORML has a pretty in-depth guide to the laws in each state. Colorado, Oregon, Nevada, Vermont, and Maine also allow cultivation, but again, the specifics depend on the state. Definitely clarify what your rights are before you start the glorious path to at-home bud gardening.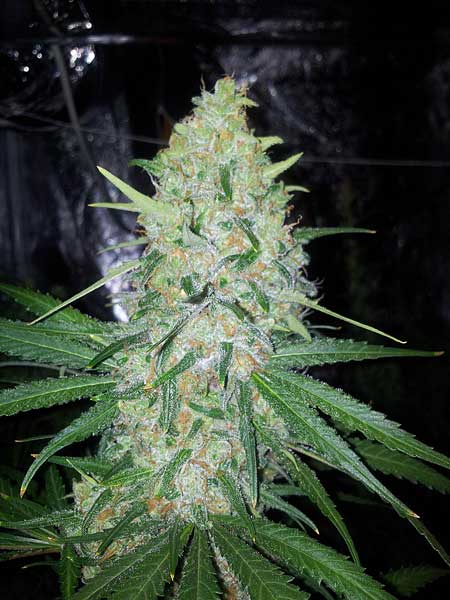 At this point put the buds in quart-sized glass mason jars, filling them about 80% full. Open jars daily and make sure the buds don't feel wet or stick together. After the first 2 weeks you can open jars just once a week or less.
You "tell" your plant to start making buds by putting your grow lights on a timer that is set on a 12/12 light schedule. This means the grow light is on for 12 hours, but the plant spends the other 12 hours a day is in uninterrupted darkness.
Plants in the vegetative stage can grow several inches a day after they get going!
Most plants are ready to harvest about 9-13 weeks after the switch to 12/12 though some strains take more or less time.
Step 9: Harvest Your Cannabis
After drying buds for a few days to a week, the small stems will snap and most buds should pop off on their own without being bendy or leaving strings behind.
Many indoors growers choose to train their plants in the vegetative stage to grow in a flat, table-top shape, as this will increase your yields under indoor grow lights in the flowering stage. But even if you don't do anything your plants will still grow just fine.

pic by Froctor Dankenstein
Step 5: Get Your Cannabis Seeds
When it comes to nutrients, follow the nutrient schedule or recommended dosage for "vegetative" growth. However, it's a good idea to start at half-strength at first since most nutrient recommendations are often a bit too strong for marijuana right away.
Making sure to actually dry your ganja slowly and cure them in jars can increase their quality by up to 50%! When buds are ready to harvest, start cutting down one stem at a time.