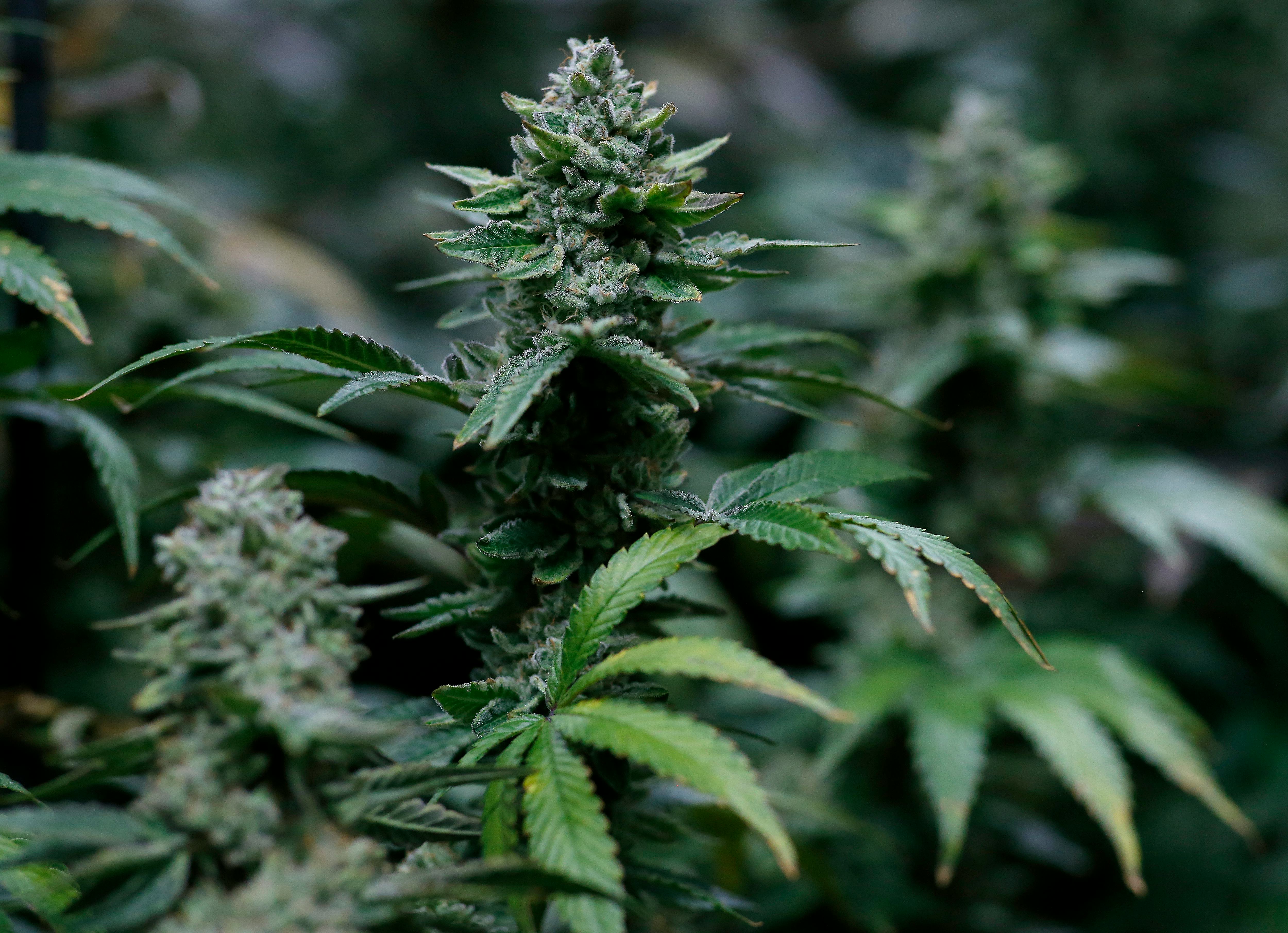 Johnson notes that the outdoor grow season lasts from around April to October, meaning if you plant seeds now, they'd still yield flower, but not much. Since it's late in the season, he suggests buying a large clone, which will have more branches and therefore yield more flower.
Since clones come from plants that have been grown indoors, let yours chill in a shaded area for a week before exposing them to full sun, Johnson says. "The clone hasn't tasted sun like that, and the transplant itself will be stressful."
Planting
Cannabis plants can be either male or female. Female plants yield the plump flowers, a.k.a., "buds," that we know and love, brimming with psychoactive compounds like tetrahydrocannabinol (THC, which gets you high), Modern Farmer explains. Male plants yield much smaller flowers, which people typically don't consume. In other words, if you want to actually indulge in your crop, you'll want female plants.
Do your homework and read up on the laws in your state. Some states prohibit growing cannabis, while others, like my home state of California, permits anyone over age 21 to grow cannabis, but only up to a certain number of plants. NORML has a pretty in-depth guide to the laws in each state. Colorado, Oregon, Nevada, Vermont, and Maine also allow cultivation, but again, the specifics depend on the state. Definitely clarify what your rights are before you start the glorious path to at-home bud gardening.
Upkeep
Your cannabis will be ready to harvest at around October. You'll know they're ready when the buds "start to get really, really swollen and packed pretty tight," Johnson says. But it can be hard to tell if you're a beginner. Many growers say that if you think your plant is ready to harvest, wait two weeks, since many newbies tend to harvest too early. Or, you could share a photo of your crop on a forum and ask more experienced growers to weigh in.
"A good window to the soul of your plant is to look at the leaves and know what's going on," she says. "It can be really difficult for people to trust what they see with their eyes when cannabis farming. I don't think I've ever encountered a plant that people who are growing it are so nervous to grow it… People don't necessarily trust their instincts with cannabis, but they should."
"It's like a recipe," says Hicks. "There are certain parts that have to be done correctly and at a certain time to get you from point A to point B to have product at the end." (See: Willamette Week's accidental "Pot Massacre of 2017" due to heat and over-fertilization.)
A recent search of WeedMaps, which is sort of like a cross between Seamless and Yelp for cannabis companies, showed that a clone of LA Confidential—a strain with a reputation for being easy to grow, according to the online resource Leafly—was available for delivery in Los Angeles for $12.
What if you just want the herbal equivalent of a handful of cherry tomatoes? "There's nothing wrong with having a teensy tiny plant with buds on it," says Hicks. "It's cute, it's ornamental, it's fun."
The minimalist's setup
I do not have a particularly green thumb. Any gardening success I've had—mostly with the pots of cherry tomatoes and herbs on my patio—has been due to good luck and strong sun.
If you live in a place where it's legal, here are some basics to know before you get started:
Rather than investing in a high-powered indoor setup, Hicks says using the natural power of the sun—either outdoors or on a sunny (but private) windowsill—is a good approach for the minimalist. And while many are particularly nervous when it comes to growing pot, looking at the plant itself will give you some guidance, Hicks says.
Clones vs. seeds
Depending on where you live, if you got a healthy clone from a dispensary today, there's nothing to say you couldn't just plant it in nutrient-rich soil in a sunny spot, and have flowers in the fall. By then, you will have read all about how to harvest, dry, and cure them.
Once a person gets a plant, they can continue to read about how to cultivate it on Leafly or High Times, consult a go-to guide like Frank's aforementioned Insider's Guide, or even attend a workshop with the author himself, who occasionally teaches at Fig Earth Supply, a Los Angeles garden store. That's not to mention the highly personalized consultancy services like those offered by Hicks at Green Carpet Growing.