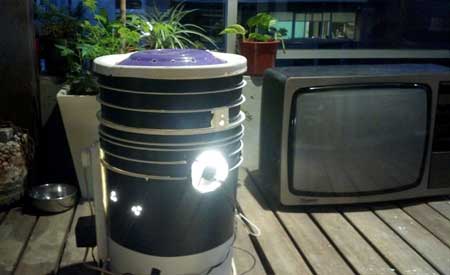 Source: hodder356
To all you growers on a budget: It's possible!
by WasabiMayo
When you're buying CFLs, they come in different "color spectrums." Some CFLs appear more orange/yellow, some are almost blue, and others almost look like bright white daylight on a sunny day.
Since CFL lights are only optimal up to about 12 inches below the light, it's best to train your plants to grow horizontally instead of vertically. Topping your plants and tying them to grow more laterally is the best way to ensure your plant can grow large without being too tall for CFL full spectrum grow bulbs.
If you are trying to do a single CFL grow operation with only one bulb, you need a small plant that flowers quickly, like an autoflower variety. Keep in mind that the yield of cannabis will be low with this setup. But, if you can't spare more room than this, it's still doable multiple times a year!
Many novice cannabis growers do great with CFL setups during the vegetative stage but fail when the plants go to flower. If you want bigger, denser, more potent buds, you need maximal light intensity.
Pros & Cons Of CFL Lights For Growing Weed
While the wattage of the light produced by the CFL bulbs is more important than the spectrum of light, optimizing the spectrum is a good idea.
The CFL light spectrum isn't as important as the total wattage of the light produced when growing cannabis, but it doesn't hurt to use daylight simulating CFL bulbs during the growing stage and soft-white CFL bulbs during the flowering stage.
How To Get Big Buds With CFL
They come in a variety of different bases, so flexibility when designing a grow operation won't be a problem. CFL lights don't use excessive energy and don't heat up as high as some other specialized grow lights for marijuana.
Using CFL bulbs for plants and producing marijuana on your own doesn't have to be complicated. CFL lights are the most beginner-friendly setup. They are also the best choice for small spaces. Beginners shouldn't grow too much for their first experience, meaning CFL lighting is a win-win for cannabis growing for beginners.