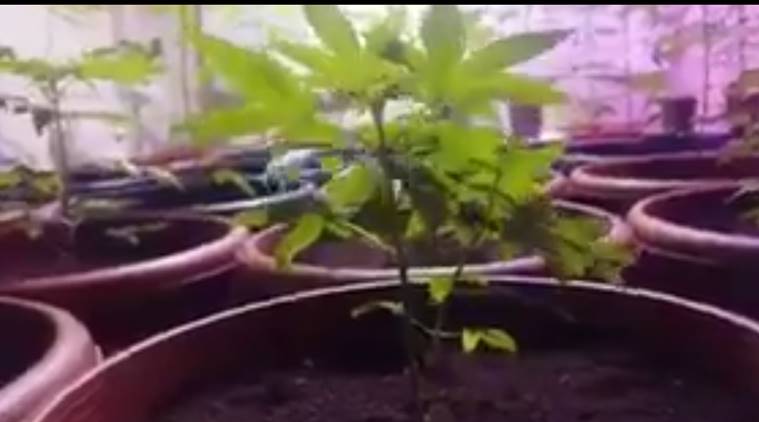 A Hyderabad man was caught cultivating 'ganja' in his 3BHK apartment, a practice he learnt on the Internet. Thirty-three-year-old Syed Shahed Husain used two rooms of his flat in Manikonda area for growing weed.
Thirty-three-year-old Syed Shahed Husain used two rooms of his flat in Manikonda area for growing weed.
Weed plant at Husain's 3BHK flat in Hyderabad. Videograb
Husain used LED lights to substitute as sunlight and used an air-conditioner and a table fan to adjust the temperature inside the flat to make it suitable for growing the plant. Phosphorous, potassium, cocofibre pith, flora pellet, aquasol, aquadene and cay stones were also used by him during different phases of growing the plant.
VICE: Hey, M. So, how come you started growing your own weed?
M: When you start smoking weed, it's almost a rite of passage for you to not smoke the good stuff because you have no idea what 'good' even is. But as you go, you realise that you need to know what you are smoking and where it is coming from. Else, there is no point to it. If you are smoking what someone is claiming to be legit shit, you need to know whether it's really grown without using pesticides or other harmful chemicals. I started growing my own weed around 2014-15 to stay away from those bad things, and know that what I will have will guarantee me a nice, clean high.
ORIGINAL REPORTING ON EVERYTHING THAT MATTERS IN YOUR INBOX.
It took a while for us to convince M—that's what we're going to call him—to talk to us. M is legendary in certain inner circles for growing his own high-grade weed, not out there in the sunshine but indoors by using hydroponics—a system that has been changing the cannabis landscape in India since a couple of years now. M is still a bit on edge when we finally chat, reminding us to not use his name, exact age (he's a 20-something) or location (lives in Mumbai somewhere) for the fear of cops busting what he has slowly (and lovingly) built over some years not for bragging rights or to make money but just out of, well, passion.
What's been the best part about smoking your own stash apart from cutting out your dealer?
It's all about the learning process. It teaches you a certain discipline. You learn a lot about plants and, in the process, yourself too. It's very Japanese zen in a way.