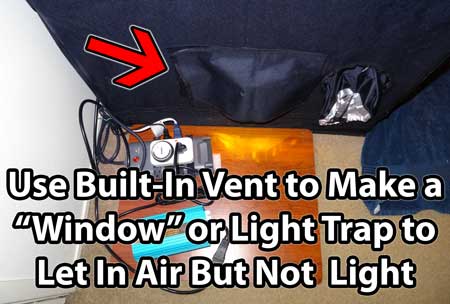 Also, here's a trick I learned from a dispensary owner: set up a carbon filter with a fan attached inside the room itself (in addition to the one in your tent), and run it alongside some ONA gel whenever you need to make sure all smells are gone quickly in the room, even if you've opened the tent. It works to keep a dispensary smelling neutral and it works just as well in the home!
Lastly, take a good look around inside the tent. Everything should be secure. Make sure that any electronics are off the ground (power strips, ballasts, wires) just in case there's ever a water spill.
You want to make sure no light or smells will make it outside the tent!
Although some grower don't use a carbon filter, they can unintentionally be making a trail that leads straight to their grow. Carbon filters ensure there are no smells whatsoever getting where they aren't supposed to be in addition to providing peace of mind!
It can be tempting to try to get a really expensive grow tent with all the "bells and whistles" because you want to give your plants the best possible home! But honestly the cheapest grow tent has 90% of the features of a far more expensive grow tent. If you've never grown marijuana before and are reluctant to invest a lot of money, I recommend starting cheap when it comes to tents!
Grow tents are designed to keep things simple for hobbyist cannabis growers. As convenient as grow tents are, they're not designed for huge marijuana grow operations! But for someone who wants 1-5 ounces/month, a grow tent may be the best way to go!
To get better airflow without light leaks, you can make a little "window" or light trap facing down (using the built-in intake vents) to let air through, but not light
The best way to hang your grow light is using rope ratchets if you can; they are cheap and easy to set up. Rope ratchets make it incredibly simple to adjust your lights at any time without the chance of dropping the light on your plants. Sometimes it's helpful to be able to quickly put lights up or down, whether you want better access to the back of the tent without the light beaming on your head, or even just to take better pictures of your plants. Make sure whatever you use to secure the lights (rope ratchets!) can handle at least twice te amount of your light just to be safe!
For bigger growers, a 4'x4′ grow tent is great because it can be used with the next class of grow lights up to some of the biggest grow lights. It can support a 600-1000W HPS or LED grow light as long as it's 6-7′ tall.
You will also need 8 PVC 3 way knees to connect (A) to (B) and (A) to (C), and 6 PVC Tees to connect poles (E) and (F) to (A).
When growing cannabis, ventilation is super important; Having a proper grow room ventilation system will not only help you control humidity but also keep the temperatures down among other benefits, so for those of you who are thinking it's not worth it to spend a couple of bucks, here are some other benefits that will make you change your mind:
Grow "box"
Apart from having a grow room air conditioner, ventilation is the only way to keep the temperature down. Most growers that grow under LEDs shouldn't have a problem with this but if you're growing under an HPS for example, you'll definitely need ventilation.
220V x 15A = 3300W
Prevents mold and bugs
It doesn't matter if you're buying or building the equipment mentioned above, in both cases, you'll have to make sure that you don't overload the circuit due to all the equipment you'll be using, so you have to be very careful to prevent fires or any other serious problems.