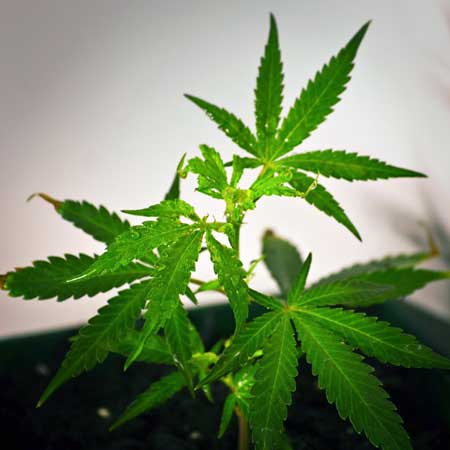 Yes, it's possible to use just female plants and feminized seeds for further breeding, with one major caveat.
Picture Journal of Making Feminized Pollen with Colloidal Silver
Feminizing seeds the wrong way can result in hermaphrodite plants.
While regular seeds make female plants about half the time, feminized seeds only create female plants. That means you won't need to toss half the plants once they start flowering. But how are feminized seeds made and can you make them at home?
Although I have a few anecdotes from growers who have used only feminized seeds for a few generations, it would be much better to share information from someone who has conducted plenty of testing over several generations. We'd love to hear from you if you have bred more than a few generations using only feminized seeds and want to share your experience.
4.) Pollinate Another Female Plant – At this point, take the feminized pollen you've collected and use it to pollinate a female plant that has been flowering for about 2-3 weeks (full detailed instructions with a video on how to do this below). Although it's possible to pollinate the same plant as the original, it's not recommended in part because the timing doesn't match up (pollinating buds late in the flowering stage doesn't produce many seeds). It's best to pollinate a different female plant that you started budding a few weeks after the original. This increases the number of seeds produced as well as gives the new female plant enough time to develop them to maturity. It also increases genetic diversity compared to self-pollination.
3.) Harvest "Feminized" Pollen – When pollen sacs are ready to be harvested they swell like a balloon and start to open up. Don't harvest early! Keep spraying the bud sites daily until pollen sacs open or you might end up with empty pollen sacs. When the pollen sacs are ready, the leaf section protecting the pollen will start to crack. At this point, it's time to collect the feminized pollen. One of the easiest ways to do this is to collect the pollen sacs directly and let them dry for a week. At that point, they can be placed in a bag and shaken to collect all the pollen.
This is a quick overview of the process, and then I'll give the full details and steps below.
Although this action will produce far less pollen than other techniques like STS, it will be enough to obtain a handful of seeds for the domestic growers to try to create their own feminized crosses. Also, the great advantage of this technique is that is 100% natural, and it doesn´t use any chemicals. It is an excellent alternative for anyone who just wants a few seeds and wishes to keep it simple without any formulas or laboratory products. However, bear in mind that this is the only method listed in this post that may produce some plants with hermaphroditic traits.
This is another lie that some people believe. As it's been mentioned before, a female plant is sprayed with some chemicals in order to inhibit its ethylene action. After a few weeks of this and once in the flowering period, the plant will produce male flowers and pollen, which will be harvested to pollinate the female plants designated to produce seeds. Once the seeds are formed, they are collected and packed immediately, so they don't come into contact with any chemicals or the plants that produce seeds, nor, of course, with the seeds themselves. Also, to produce cannabis seeds, you normally need two separated indoor cultivation areas, one for the reverted plants (treated females) and the other for the females to be fertilized to produce the seeds, so the latter can't get "contaminated" with any chemicals.
There are several ways to secure that a female plant produces pollen, and almost all of them require some type of chemical that is often sprayed on the plant. Once sprinkled with the chosen product and under a flowering photoperiod, the plant will flower normally, but as a male instead of female, producing 'feminized' pollen (which only contains chromosomes XX) that can be used to pollinate other females in order to produce seeds. These are some of the most commonly used techniques:
Silver nitrate
It is not surprising, therefore, that at present, feminized seeds represent virtually all the seeds in the market, since they offer a number of significant advantages for both professional and home growers and breeders, for photoperiod and autoflowering plants. The main disadvantage of this method is a well known and hotly debated issue: the growers who buy this type of seeds cannot produce their own seeds in the absence of male plants, so the only way they can manage it it's using the same process to obtain this type of seeds. But. what are these processes and what are they based on?
Without any doubt, one of the most commonly used methods for both producers and seed banks. This is a solution made of distilled water, silver nitrate and sodium thiosulphate (sometimes called sodium hyposulphite) that, after being sprayed on the female plants, inhibits their ethylene action resulting in the formation of male flowers once flowering has been induced. STS is relatively easy to prepare, although its lifespan after combining the two components is quite limited, barely a few days as long as it´s well preserved (in a dark and cool place).
Feminized seeds have chemicals:
After this explanation, many of you will have already figured out that if we cross two female plants (reversing the sex of one of them to force it to produce pollen), the result will be seeds that will produce female plants, as there are only female sex chromosomes in the equation. If crossing XY with XX produced 50% of each class (male and female), crossing XX with XX will produce plants that only exhibit chromosomes XX, that is to say, female plants. No matter how many times we "transform" a female plant into a male plant, we won´t be changing their genetic composition, which will still be female or XX. This way, the pollen produced by this plant will pass down female sex chromosomes exclusively.
Many growers have been surprised by the presence of hermaphrodite plants in their marijuana crops. In this post we will tell you how to detect them and how to proceed if you find a hermaphrodite cannabis plant in your growing space. We will also discuss the causes of this hermaphroditism.