A rock garden adds texture and color to a difficult area of a yard, such as a hillside, and it serves as a focal point. Adding bushes to a rock garden adds a touch of plant life that doesn't require constant upkeep. When weeds pop up between the rocks, they mar the garden's appearance, but one or more weed-control options – most notably, landscape fabric under the rocks – can be used to restore the site.
Rocks as Mulch
Adding underlayments between the rocks and the soil creates a weed barrier that helps prevent weed seeds from touching the soil. If you already have rocks in place, rake them away temporarily while you install the underlayments. Choose landscape fabric or black plastic as the underlayments.
Best Weed Barrier Under Rocks
Plastic is the best weed barrier under rock, but water won't pass through it to feed the bushes' roots. An option is to use the plastic, but leave large holes in it around the bushes. Alternatively you can combine the underlayments, placing landscaping fabric around the bushes and then covering the rest of the rock garden with heavy plastic. You'll still leave holes for the bushes, but that space will be weed resistant because of the landscaping fabric.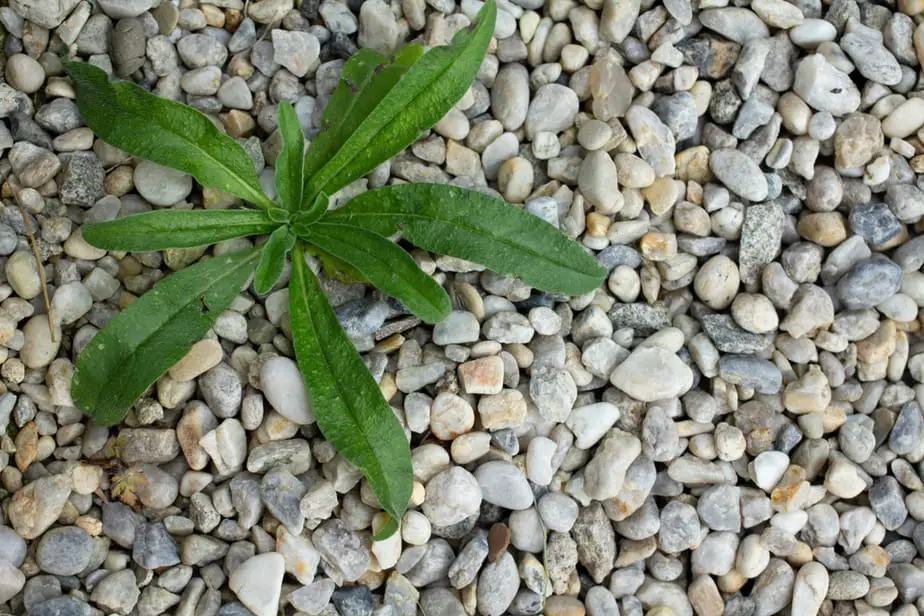 Even the best landscape fabric will break down after a few years, meaning weeds will grow again.
Landscape fabric generally comes in three types:
Household white vinegar will also kill some weeds, although it is not very powerful. A better solution might be to buy horticultural vinegar, which is available online or at a home improvement store.
A black plastic sheet for garden cover under the landscaping rock is effective at reducing weeds. You can usually get a large sheet, so you can cover whatever ground you need to in one go, without having overlapping pieces, leaving spaces weeds might grow through.
Landscape Fabric
Add plenty of compost to the soil before you lay anything under the landscaping rocks. You will not be able to do this after you have covered the ground and laid your rocks on top.
Landscape fabric prevents your rocks and supporting sand or gravel from sinking into the soil under their own weight. The fabric helps stabilize your soil and reduce erosion. This is particularly important if you live in an area of regular rainfall.
If you do choose plastic, select one with UV protection to prevent it from breaking down after a few years.
Plastic
Spun – this is strong and durable and does not puncture or tear. It usually has circular or swirling patterns. You may need to cut holes in it to let plants grow and tree roots to spread. It is strong and can last for many years.
You can hide the cloth using a thin layer of mulch, such as stone or bark chips. Take care not to lay too much mulch. Mulch decomposes relatively quickly, which creates enriched soil lying on top of the landscape cloth. Weeds can grow in soil. As the mulch breaks down, it also creates a natural fertilizer for your ornamental plants – but the weed fabric underneath the mulch stops the nutrients from getting to your plants' roots.