The "Standard Grow" is designed to be a fully comprehensive cannabis cultivation and propagation system, offering an all-inclusive perpetual grow space packed into a 4×5' build. For just under $1,000, you get a 3-chambered, 3-light tent with a full air filtration system, automation and metering included.
All of the hardware used for each project can be ordered online or bought at a local hardware store or grow shop.
The Nano Grow is designed to be the most budget friendly and least technical design. This build focuses on trimming down the necessary components to eliminate any superfluous items. While the essentials will cost you just under $120, you can add an optional inline fan and thermometer/hydrometer for just a bit more.
However, this system tends to run hot and will need the open air of a large room or garage to function optimally.
Supply list:
The Standard Grow offers a complete package for growers who wish to maintain a perpetual cultivation operation year-round. It covers all of the essentials in housing, lighting, automation, and filtration for a standard home grow.
With this system, cool air will enter through the bottom of the tent, and warm air will be scrubbed as it leaves the top of the tent. The 6" clip-on fan should be placed just above canopy level on the back-left pole to help circulate air evenly as the plants mature.
With the 315w CMH (ceramic metal halide) lights, enough heat is generated to recommend this build for an open space to allow for the best possible air circulation through the tent. The included 3100k bulb allows you to use the tent for both vegetative and flowering cycles.
Who should use this build?
Unlike the Nano Grow, this build contains a complete ventilation system designed to filter and exhaust hot air while simultaneously bringing in clean, cool air. Additionally, the timer has been upgraded to the dual-outlet digital model for controlling both the light and carbon filter exhaust system. A variable speed vent fan controller is also added for maximum climate control.
Total cost: $117-147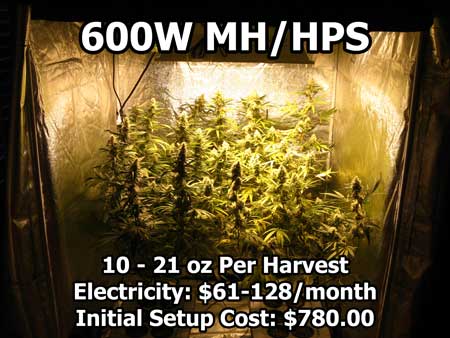 Average Electricity Cost: $61/month
Initial Setup Cost: $775.00
Average Yield: 10-21 oz Per Harvest
400W MH/HPS
If you don't want to have to figure out exactly what to buy to start growing, this article is for you! I will break down what to expect based on your space limits and desired yields, so you can get the exact perfect setup for your situation.
Initial Setup Cost: $1,135
Initial Setup Cost: $780.00
Medium-Size Quantum Board LED
Initial Setup Cost: $613.00
Large Grow Setups
Whether you want to raise cannabis commercially for profit or are looking to grow some bud for recreational fun or medical marijuana for good health, setting up and using a grow room offers lots of advantages. Unlike growing marijuana outdoors, raising it indoors in a grow room allows you to control all the crucial conditions that affect its growth, like temperature, light, nutrients and water. In addition, growing weed indoors will keep it away from destructive four-legged pests like rabbits and deer who may want your crop.
Grow Room Tips for Cannabis Growing
Water is a crucial element of life, and pot plants are no exception. They need adequate amounts to thrive. Growing plants inside, you will need to provide a steady supply of just the right amount of H2O. You could hand-water with a hose or a bucket, but that is a time-consuming and inefficient process. A good drip irrigation system can deliver just the right amount of water to each of your plants efficiently and reliably.
Watering Cannabis
Also consider humidity. Depending on the stage of growth, pot plants generally like relative humidity from 40% to 70%. Conditions that are too humid can lead to disease, molds and fungus. Extremely dry conditions can retard the growth of your pot plants.