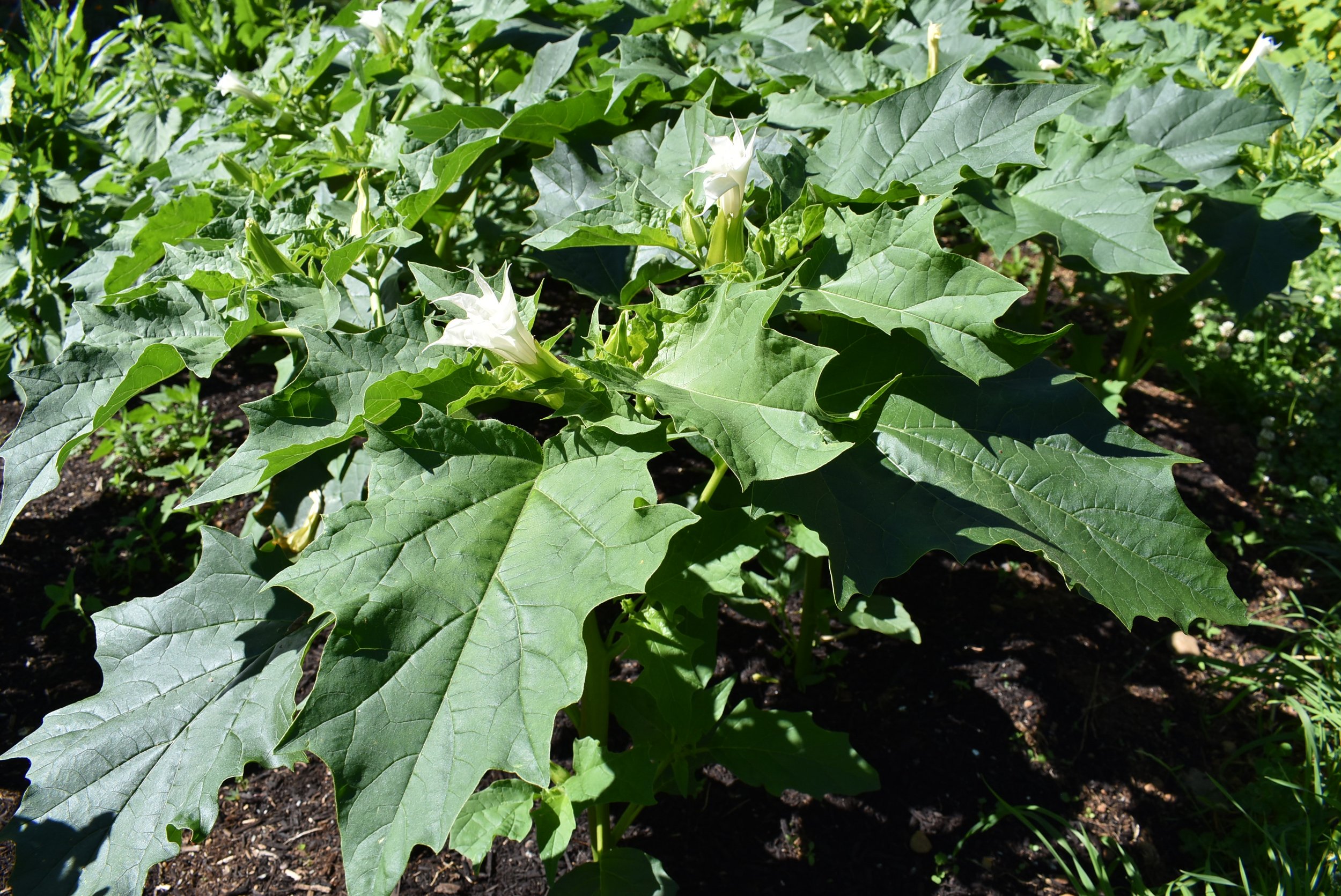 Medicinal Uses
Antispasmodic, anodyne, sedative and narcotic. Can be applied topically to ease rheumatic pain. All plant parts are toxic in small or large doses.
Our own farm-grown Jimson Weed (Datura stramonium) seeds for organic growing.
Growing/Care
Easy to grow. Plants are most impressive when given regular water and good garden soil. Will self seed and potentially become weedy unless deadheaded to prevent seed formation.
Life Cycle
Annual
Harvesting
N/A
Germination/Sowing
The seeds germinate easily and can be sown indoors in flats and transplanted out once all danger of frost has passed.
Sun/Soil
Full sun, well-drained soil.
All seeds are grown on our farm without the use of chemicals; and are open-pollinated, hybrid-free and GMO-free.
Plant Family
Solanaceae (Nightshade Family)
Sowing seeds of Jimson weed:
The germination of this seeds is sometimes capricious, to remedy this, it is better to stratify the seeds.
Sow the seeds of Datura stramonium by 5 or 6 in small pots of 10 cm.
Cover jimson weed seeds under a few centimeters of fine soil and then stratify naturally or artificially your pots with seeds for 2 to 3 weeks.
Once germinated, wait until the datura plants are 10 cm before transplanting them to the garden.
Jimson weed or Datura stramonium is a very robust annual plant.
It is an annual plant of the solanaceae family just like the henbane or the mandrake .
This plant produces large trumpet-shaped flowers of white color and many fruits in the shape of horse chestnut.
Jimson weed seeds are black, the size of those of the black Ipomoea or firecracker vine .
This esoteric plant is also used for esoteric rituals around the world.
In America for healings, rituals, travels in the underworld.
In India as an aphrodisiac.
This herb has many medicinal properties appreciated for a very long time.
It treats asthma, coughing spasms, muscle spasms and relieves Parkinson's disease symptoms.
Datura stramonium, like deadly nightshade , can be applied directly to the skin to relieve rheumatic pain and neuralgia.
Also exists as a live plant for growing.
Shamanic and ethnobotanical plant seeds to collect.
Do not consume. Toxic plant to collect only.