Both types of HIDs are usually inexpensive to buy but will eat up electricity. HIDs throw off a lot of light and heat, which the plants need to bulk up and get potent. But, they run hot, contain heavy metals, and ballasts can fail.
Lights have fixtures and bulbs, and some require a ballast. Depending on the type and model, the bulbs or the fixtures can be more expensive. There are a lot of abbreviations, but don't be alarmed.
These fluorescent lights are cheap and efficient and great for vegetative growth. They're especially great for helping along germinating seeds and small seedlings because they don't put off much heat and won't scorch the delicate seeds. They won't run up your electricity bill too much.
HID lights for growing marijuana
LEDs (light emitting diodes) are relatively new to the cannabis growing world, compared to HPSs, MHs, and CFLs, but they are quickly proving to be the way of the future. LEDs may be more expensive to buy initially, but they are far more efficient and kinder to the environment and your electricity bill. Some cities even give tax breaks to commercial growers who install or switch to LEDs because they're better for the environment.
Grow lights allow you to control exactly how much light your plants receive, ensuring they get the same amount of light day after day, without the grower having to solve problems with bad weather or cloudy days that happen in an outdoor environment.
Safety
The first thing to consider before buying a grow light is how much money you want to spend. With more states coming online with adult-use legalization, homegrowing is becoming more popular and growing technology is getting better and more efficient all the time.
How big a light you need will depend on the number of plants you plan on growing, but also on the size of your space. If you're growing in a closet or a small grow tent, you'll only be able to fit one small light in there. If you have a wide open basement, you could invest in a bigger light as opposed to two smaller ones.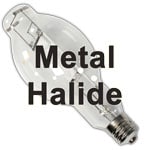 Cons of Fluorescents
Simply hang an LED light over your plants and start growing!
Keeping CFLs close results in the best yields and growth
Some types of induction lights are well suited to stadium lighting but honestly they just aren't that great for growing cannabis and they come with huge price tags. Even a lot of LEDs are cheaper and you'll get better results with them. You can learn more about induction grow lights here.
HIDs are very well suited to growing cannabis and very easy to use once they're set up. If your main goal is to get the highest yields possible, then HIDs are the way to go! However, they do require extra setup compared to the other grow lights because chances are you will need a fan to vent out heat from your grow space.