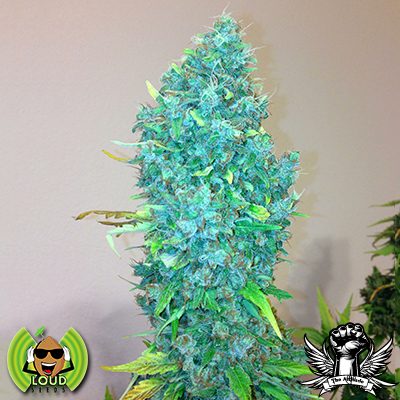 If you want to be notified when this product comes back into stock, please enter your email address below:
Please be aware that you will need to confirm your submission.
A verification email will be sent to you to confirm your email address.
If you have not recevied an email within a few minutes after your submission, please check your SPAM/Junk folders.
THC percentages come in around 18 to 22% making Loud Dream a heavy hitter. When it's cannabis seeds you need to build that collection in the right direction then you need to make sure you get all your cannabis seeds from Ice Headshop. You'll get top-quality cannabis seeds like these Loud Seeds feminized cannabis seeds each and every time you shop at Ice Headshop allowing you to grow your collection in a positive direction in no time at all!
Order
within
It is illegal to grow cannabis seeds in the UK. These seeds are for collectable and/or souvenir purposes only.
Loud Dream comes from a combination of Blue Dream and NorCal combined with other top secret genetics to create a heavy hitting, large yielding, mildew and pest resistant, pot plant. Flowering times average between 40 to 70 days depending on whether you're growing indoors,outdoors or inside of a greenhouse. The average indoor growers sees impressive results of 400-600 grams per square meter or more. Outdoor growers see 400-600 grams per plant or better.
customer reviews alt="Rating">
Note: We receive new seeds stock daily, on occasions yours will be ordered in & posted the very next day.
We will match your seeds with Feminised or Auto depending on your selection, We have a great choice of free seeds from all the big brands!!