Cons
Crop King Seeds and Seedsman both had an impressive number of strains and hard-to-find names for the experienced marijuana seeds connoisseur, with Seedsman boasting 1500+ marijuana strains.
In addition to maintaining good word-of-mouth and social media reviews, the company also has a loyalty program for returning customers. Bitcoin buyers save money too, which is cool.
10. Marijuana Seeds NL – Best Free Seeds Deal
Buyers get 2 free feminized seeds with every order, 2 free auto-flowering seeds for orders over $75, and 4 feminized / 3 auto flower seeds for free when spending over $140.
Cons
Is it safe to order seeds?
Beaver Seeds is a flexible seed bank all around, from their methods of payments, to free shipping, and guaranteed delivery, with paid tracking. The germination rate is guaranteed and all shipping is discreet.
That's about as discreet as you can get.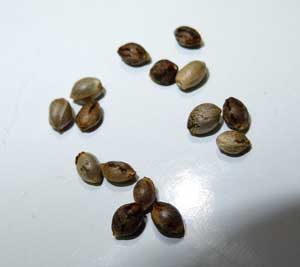 So what should you be worried about when it comes to security? Telling People!
Located: San Diego, California
Ships: United States only )
Ordering weed seeds online from a seed bank will allow you to purchase feminized seeds (all-female marijuana seeds) and will also let you pick the exact strain to match your size and time requirements.
Cons
I like using a credit card when ordering seeds because in general credit card companies tend to offer better protection for online purchases than a bank. If there ever is a problem with a purchase of any kind, a credit card company will instantly give you a refund, while a bank tends to make you wait while they do an investigation.
Many, many growers order seeds online every day, and to this day there has never been a report of someone in the USA getting in legal trouble for simply ordering cannabis seeds online. You can check me on that! In fact, American citizens have been ordering seeds overseas via mail order from Amsterdam since at least the 1970s, and even though it's been over 40 years there hasn't been a case of an American getting in legal trouble simply for ordering cannabis seeds online through the mail!
When marijuana seeds get caught by customs agents during shipping, the seeds get tossed and that's it. It doesn't matter what state you're in, or your local laws. That is simply the way our laws about customs work. On the flip side, a U.S. sender can get in a lot of trouble by sending seeds from one place to the other within the U.S. (though this is still very, very rare).
We have maintained this list since 2010 with reviews of the marijuana seed sources that we use at GrowWeedEasy.com. These seed banks take online orders and ship cannabis seeds worldwide (including the USA). We only recommend companies with outstanding stealth, reliability, customer service, and seed quality. This certainly isn't a list of all good seed banks, but these are the seed banks we know and use ourselves.