Let these ladies grow through the vegetative stage.
This is the most common method top breeders use to feminize seeds.
Do this step in a closed room. It's a delicate process. There are lots of tutorials online about how to pollinate cannabis. Find a good one and follow the steps.
Step 3: Harvest & Dry the Pollen Sacs
When the buds start forming, put colloidal silver in a spray bottle and drench the bud sites once per day. The buds will develop into male-like buds that have the power to pollinate. The process will take three or four weeks. Don't stop spraying them until the pollen-filled buds start opening and the leaf that protects the pollen begins to crack.
The trick to rhodelization is to fool the girls into "thinking" that they're dying. A female anticipating death wants to optimize the continuation of the species. When they think they're doomed, they will produce female seeds almost exclusively. This is because a small number of male plants can fertilize an entire room full of girls, so very few of them are needed. Cannabis pollen outdoors travels far and wide. The girls are more essential.
Step 2: Spray the Bud Sites Daily
Choice #1 – which is called Rhodelization – is not a favorite method of breeders. It's more complicated than changing hormones.
You can use a can for this, too. The sacs will release pollen when you shake them. Keep your container closed while doing this so that no pollen escapes.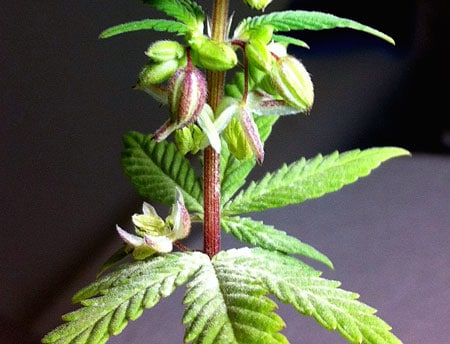 There are two main ways to make feminized pollen:
Where to get Colloidal Silver (your options):
Are there other reasons I should avoid breeding seeds without males?