VIVOSUN tops our list due to a couple of factors: build quality and price point. This product's claim to fame (and one many others should guarantee) is the fact that it never leaks light. It's a very sturdy product that comes with quality mylar innards and a thick canvas outside. It's the go-to for those that want a no-frills grow tent that is going to last for small to medium grows.
The 10 Best Grow Tents
Pretty similar offerings and price point as CoolGrows' offering, but narrower at 48"x24"x60". It's still a nice tent, and for a grower that is space deprived, they might find this option more appealing. The build quality is passable, with no light leaks that we could find, though the zipper tends to get stuck on this one. What's up with that? They should put better zippers on these things.
4. Apollo Horticulture Hydroponic Grow Tent
Being said, the CoolGrows GT will last quite a few grows and the price is absurdly good for the size and build of the tent.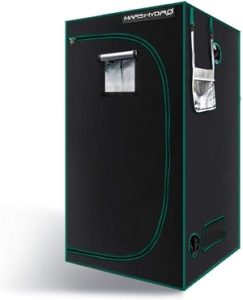 This tent is also one of the easier grow tents to set up and tailor to your specific needs because of its many vents and ports.
Only its canvas is a bit less dense and less durable than the regular line.
3. Gorilla Grow Tent Lite Line (Most Reliable & Sturdy Mid-Tier Tent)
It is the most expensive grow tent on our list.
4. TopoLite Indoor Grow Tent Dark Room Green Box (Most Light-Tight Tent)
The most significant advantage over the other grow tents, however…