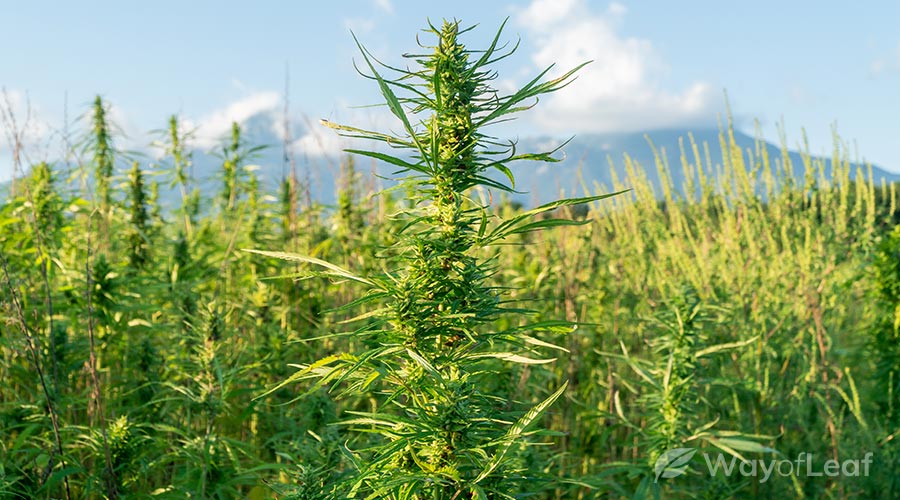 Alas, you are unlikely to enjoy an intoxicating high, no matter how much of it you smoke. It is likely weed descended from hemp fields from the days it was a significant crop. In those days, farmers bred hemp for fiber used in rope, clothes, and other useful items. The THC content is minimal. Even today's hemp must contain a maximum of 0.3% THC, incidentally.
In Canada, feral cannabis isn't as widespread because the colder winters are harsh on the plants. Also, our northern neighbors don't have a history of large-scale hemp cultivation like America. Besides, cannabis in Canada is now legal for recreational use! Even so, you can find patches of tough ditch weed in all of Canada's provinces if you look hard enough.
What About Wild Marijuana in America?
As far as the time of year goes, you are better off waiting until the fall season. It is at this stage that most cannabis plants flower outdoors.
The Administration created a Domestic Cannabis Eradication/Suppression Program in 1979. Federal funds were provided to get rid of marijuana across the United States. Within 12 years, the program claimed it removed well over 100 million wild weed plants. Most of them were in Nebraska and Indiana for the record. In contrast, only six million plants were cultivated in the same timeframe. In 2003, a report claimed that cultivated cannabis accounted for only 1% of marijuana destroyed under the program. The rest was feral.
How High Will I Get if I Decide to Smoke Wild Cannabis?
Also, there are male plants mixed in with ditch weed, so it gets pollinated and puts its energy into creating seeds. Those who have tried to smoke it say they occasionally get a headache. If you have never tried cannabis of any type, perhaps the experience will prove pleasant. However, those with pot-smoking experience are unlikely to enjoy it.
Over the years, it's been linked with high-THC cannabis and hundreds of millions of dollars have been spent to eradicate it in the US.
In the 1950s, hemp production was halted, but by then, it's cultivation was rampant. Since then, its seeds have spread across great distances in the U.S.
Where Does Weed Grow Naturally?
Weed grows naturally all over the world. From the cold-weather mountainside of the Himalayas to the warm and humid climes of Mexico and Jamaica, cannabis can survive under a variety of environments, although better in some than others.
Weed grows naturally all over the world in every continent, except for Antarctica. Originating on the steppes of East Asia, cannabis was grown for its grain and fiber, as well as for medicinal and spiritual purposes.
How to Find Wild Weed
In fact, in 2003, ditchweed made up about 99% of the cannabis that was eradicated by the Drug Enforcement Administration (DEA). In 2006, the last year these numbers were reported for ditchweed, ditchweed accounted for 98% of all eradicated cannabis.