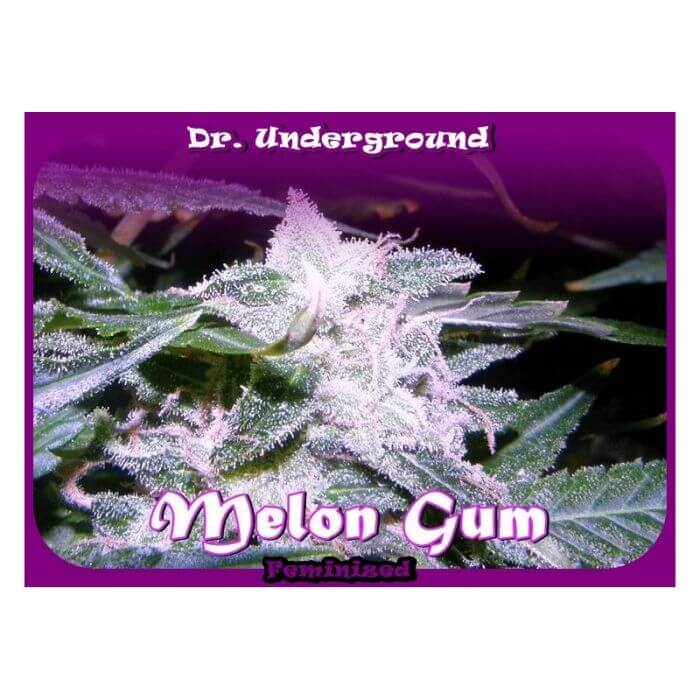 The intense flavour is a blend of lemon, melon and strawberry, ideal for lovers of fruity scents. The intense smell requires carbon filters during the flowering period.
The dense and resinous buds turn red-dark purple thanks to the Lavender genes. It can yield up to 600g/m2 indoors, around 1000g/plant if planted outside.
Melon Gum grows strong and branched, developing long bud tails. Dr. Underground advises to grow it directly under a 12/12 photoperiod in hydro systems to limit its height.
Alchimiaweb introduces the Melon Gum from Dr. Underground, a Lavender x Bubblegum hybrid available in feminised form.
The effect of Melon Gum is strong and happy, ideal to chill with friends.
ENJOY NEW GIFTS!
​​Melon Gum was originally a dream and Dr. Underground sought to retain the awesome flavor of the Lavender Soma Seeds) with touchs of melon and strawberry gum thansks to the implementation of Bubblegum (Serious Seeds).
The effect is very powerful and worth remembering, Melon Gum produces some killers highs, especially if you go with friends, is really fun. This strain has everything that good taster appreciate: it is a plant with many colors, full of resin, hard buds and an extra large yield.
SOUL DIESEL
Due to its Indica dominance this plant is quite branched with large leaves presenting beatiful colors and releseing a strong scent from the begining. The aroma varies from the sweetest of lemons to a sour mix between berries and bitter melon, something very very tasty.
Outdoor Flowering: late September, early October (outdoor – northern hemisphere)
In hydro or aero crops you should not give any vegetative time as otherwise it would be a disaster.
Feminized Melon Gum Marijuana Seeds
Yield: 600-800g per m2
Genetics: Lavender x Bubblegum