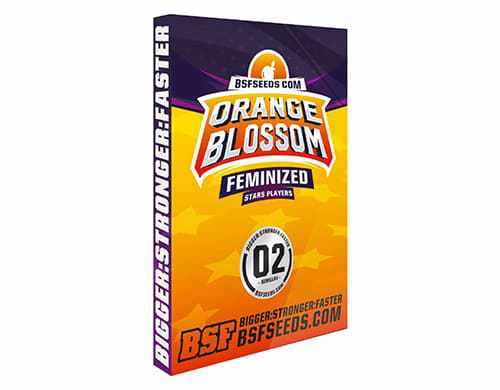 At BSF Seeds we present a unique and special cross. After many of the studies they managed to get a stable cannabis seed with an orange / tangerine flavor, the very red Orange Blossom!
ORANGE BLOSSOM XXL AUTO
BSF Seeds presents Orange Blossom XXL Auto. Starting from our original mother of Orange Blossom. In the BDF Seeds labs we have developed this wonder in its XXL Auto version. This marijuana seed has been worked for four generations with our autoflowering variety, obtaining a medium-high plant, very generous and easy to grow. Despite this, it is important to pay attention at the initial phase, as stress could stop its development.
We thought it would never see the light. As a result of our collaborations with collectives and seed banks around the world, we have been able to select and stabilize the most fruitful specimens, with a predominance of orange / tangerine.
Orange Blossom (Tangie) is one of BSF Seeds' most appreciated seeds; their breeders put plenty of work into it in order to produce perfectly defined orange aromas and flavors.
How to Grow Orange Blossom Cannabis Seeds
Outdoors this strain is quite strong and does well against fungi, insect infestations and bad weather, which makes it perfect for beginner growers that don't have much time to take care of their new plants. If you give their roots plenty of space and grow them in quality substrate, such as Canna Bio Terra Plus 50L, you can grow plants that are over 2.5m wide and 2m tall, with one plant being capable of producing up to 700g. It should be ready to harvest towards mid-end of October.
Growing Orange Blossom outdoors
Orange Blossom by BSF Seeds comes from a long selection process, in which a Californian orange and a pre-90s Skunk were crossed to make this delicious strain. The result is a plant that is incredibly easy to grow thanks to its heritage and it also has incredibly characteristic orange aromas and flavors.