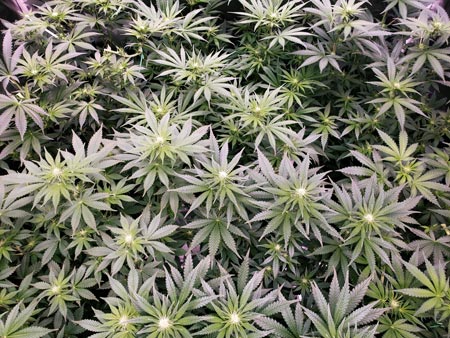 If you're not sure what to get, here are some recommended super soil setups with shopping lists and Amazon links to make sure you get everything you need.
1.) Set Up Your Grow Environment
We initiated 12/12 when the plants are half the final desired height. This was about 5 weeks after they were put in the tent.
4.) Initiate the Flowering Stage When Plants are 1/2 the Final Desired Size
Harvest time is my favorite time!
With organics, the primary focus is to build the best possible environment to sustain life and provide nutrient access to your plants. This focus extends beyond the soil, so it's best to view your entire grow as a tiny ecosystem that you must maintain in order to achieve homeostasis.
Providing your cannabis with sufficient growing conditions is one of the most important steps in building a successful organic grow. This includes a proper spectrum of light, optimal temperature and humidity settings, and high ventilation and airflow. Many organic growers swear by gardening outdoors but if you're limited to growing indoors, choosing lights with the broadest possible light spectrum and the coolest temperature output is the key. You can always offset hot lights with proper ventilation and temperature control.
There are currently 15 states with medical cannabis home grow provisions and three states (D.C. included) where adults are allowed by state law to cultivate at home recreationally, with some of these states carrying heavier qualifications than others. This list continues to grow as more cannabis enthusiasts gain access and can try finally try out their own green thumbs.
What to Feed Organic Cannabis
Synthetic nutrients and pesticides both have a tendency to leave soils pretty beat up and saturated with salts and chemicals towards the end of a grow, mandating pretty serious flushing to prepare your crop for consumption. In many cases, these soils must be remixed and tilled or tossed before the next season. As organic soils are actually living entities, they do not require tilling to prepare for a new crop. By simply removing the root ball and adding a bit of dry mycorrhizal fungi to the soil, you're ready to go for a new round. No-till gardening is emerging as a standard in most organic cannabis farming practices, not just for its obvious sustainability purposes, but for the benefit that organic soils that have been strengthened over a long period of time can offer.
Getting started with organic cannabis farming is both simple and flexible as there are many ways to incorporate these methods into your home grow. Think of organic growing more in terms of a spectrum. Since there currently aren't any regulations in the cannabis industry as to what actually qualifies as true organic farming, many interpretations do exist. As a result, this topic can be quite polarizing for industry professionals, but for home growers it simply comes down to a matter of preference.
How to Grow Organic Cannabis
Organic pest control is easier than you think. There are a handful of natural pest management remedies in circulation that work wonders for controlling both indoor and outdoor gardens and don't require the use of harmful systemic synthetics. Companion planting, the practice of pairing certain varieties of flora to naturally deter pests, is a fantastic first step for outdoor growers. Try using basil or dill in your garden for gnats, or marigolds for aphids. A quick search will land you with a ton of beneficial pairing for your garden plants; just switch out your control group plant with cannabis and you're good to go.
Feeding your organic cannabis is as easy as finding the right water to use. When growing organic, try to avoid using tap water. Municipal water supplies tend to contain fluoride and other chemicals that can and will kill beneficial bacteria in your soil (though you can always opt to pick up an organic soil amendment or supplement at your local hydroponic shop if you're ever in a pinch).