I'm not much of a hard liquor gal myself, so this champagne and pomegranate cocktail fills the bill for being special without being overly complicated. It's also lighter in alcohol than many; you can get away with a glass or two without finding yourself dancing on tables before midnight. If you want to go the non-alcoholic route, up the amount of agave and pomegranate, and fill the glass with sparkling water instead of sparkling wine.
Share this.
I've got a soft spot for all things bubbly, be it the kind you blow through a little plastic wand, the ones that percolate out of a hot bath, and of course the liquid variety that pours from a bottle, most especially on New Year's Eve. I figured some of you might be jonesing for a cocktail to celebrate the last of the year and none is complete, in my opinion, without some bubbles.
The cocktail provides a teensy dose of antioxidants thanks to the pomegranate, which also gives it a decidedly "artisanal" ring, apparently very much on trend in the bar scene these days. You can buy pomegranate seeds in the produce section of many markets or unearth the seeds yourself (go here for a tutorial on how to do it).
Not to be gender biased, but the Pretty in Pink is decidedly feminine. It's pink, it's got Champagne, and it's topped off with a teaspoon of pomegranate seeds that bobble in the mix with every sip. You can "man" it up by adding a tipple vodka, or something that might put even more hair on your hubby's chest… good tequila. If you want to get really crazy on New Year's, enjoy your bubbly in a bubble bath while blowing bubbles.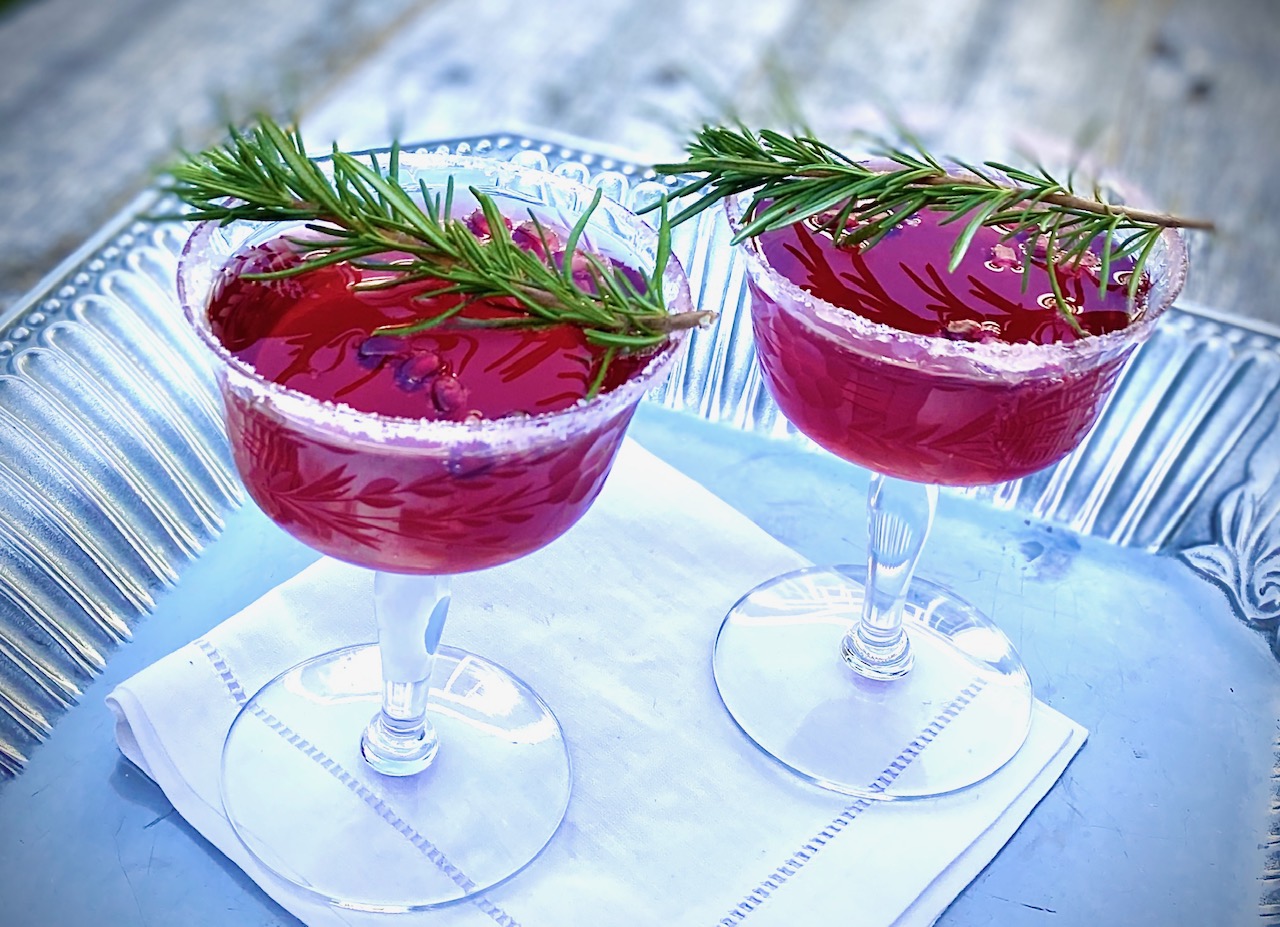 Pomegranate juice and seeds are in season in the late Fall and Winter which makes this cocktail perfect for the holidays. The good news is they are both available year round now so you can make this beauty anytime.
Ingredients for Prosecco Cocktails with Pomegrante
Here are the 3 steps to de-seed a fresh pomegranate:
How to Seed a Fresh Pomegranate:
This easy 97 calorie cocktail needs just 4 ingredients, plus sugar for the rim of the glass and a festive sprig of rosemary.