Scrogging works best if you stay one step ahead of the plant—ideally, you want to set the screen so branches grow into it, as opposed to having to push branches into it after. Monitor your plants week by week and help branches through the screen as they grow.
Keep in mind that each branch has a different length, and there's no exact measurement for how close or far apart each plant or branch should be.
When to start scrogging marijuana plants
By cutting off these lower branches, the plant can focus its energies above the canopy, producing high quality buds up there.
Scrogging marijuana indoors
There's an art to scrogging—you need to put a set of plants together and stretch out their branches so they don't grow on top of each other or shade each other out.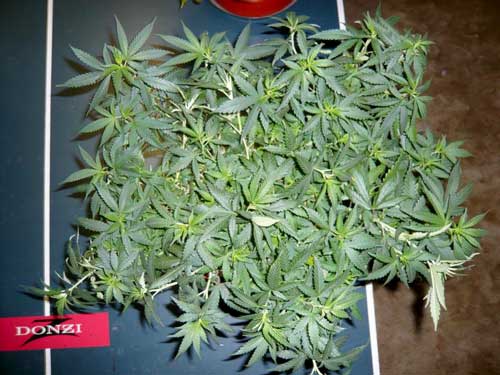 Note from grower Shwagbag:
I like having screens where the height can be adjusted either by a peg system or some other ingenious way.
Answer: Let me explain how I do it, and I'll also share how other growers do it.
Answer: A key element to scrogging in soil is that you do need access to the dish under every pot for testing runoff, etc.
Frequently Asked Questions
I also like to control just what stretches and how much. By trimming very specific fans about a week before the flip depending on how they look. When you trim both fans at a node, you drastically limit its ability to stretch so if I'm running something with high sativa tendencies, there will be more lst, supercropping, and defoliation in preparation for the screen
First, you let it grow for a bit. Keep topping now about every 3rd set on the new stuff.
One thing we need to understand is that when you "top", you are dividing that main cola into 2 colas. They will not be of the same size the original one would have been but that's ok, the 2 will weigh more than the 1 because of the increased leaf surface area getting direct access to the light. (explained better in the scrog tutorial below)
Make Your Screen
Many hydro setups are different…problem solve that shit. I was running 4 smaller plants per screen so my options were limited. Single bucket setups with independent screens… you have many options.
This is my version of a screen that is both easy to work and re-usable forever. I simply lined a square of 2×4's with eye hooks