The wonderfully named Zkittlez strain is a strong indica-dominant combination of its genetic parents, Grape Ape and Grapefruit. Both of these are known for their berry hues and sweet taste, with hints of grapes, and this is passed onto the Skittles weed; ideal for those who prefer a very sweet taste, almost reminiscent of fruit candy.
Often mistaken for the skittles strain, the Zkittlez strain won 1st Place for the best Indica at the 2015 Cannabis Cups in San Francisco and Michigan, and 1st Place at the 2016 Emerald Cup. Feminized Zkittles seeds are therefore a great option for sweet indica lovers and those who want proof of quality. The flowers themselves are also very attractive, with green and purple hues, and a tropical fruity aroma that intensifies approaching harvest time.
Sweet Candy Like Taste
Almost like eating grapes, Zkittlez has a very unique aroma and taste, but it does have a few side effects as well, with the most commonly reported being a dry mouth. And to a lesser degree, users report having dry eyes, potential dizziness, and some even reported a sense of paranoia. However, this was the least reported of all side effects with this strain and tends to correlate to low tolerance and lack of smoking experience.
Zkittlez strain is known for its berry hues and sweet taste, with hints of grapes. Skittles strain give users a relaxed and up uplifting high, with an almost euphoric glow that is super chill. Zkittles encourages you to go about your day with a smile on your face.
Zkittlez Seeds
Zkittlez cannabis strain give users a relaxed and up uplifting high, with an almost euphoric glow that is super chill. With Zkittlez you can expect to function normally and go about your day with a smile on your face. The Skittles strain is a good medicinal choice for anyone feeling stressed, or those suffering from mild depression, chronic pain, fatigue, and lack of appetite.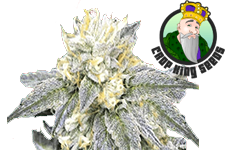 Make sure to employ SCROG or SOG techniques to get the most out of your canopy. Zkittlez plants respond well to fanning out up top while remaining well-ventilated and airy along the main stem and lower leaves.
Their skill and creativity in the fields translate into artisan plant science, yielding some of the most exotic cannabis strains known to humankind. Amongst their many contributions to the cannabis game, none is as universally acclaimed, loved, and smoked as the Zkittlez strain.
To produce the bulky nugs Zkittlez plants are known for, you must first dial in your growing conditions and climate.
Strain Description and Properties
Most Zkittlez plant phenotypes retain a squat stature between 40 and 60 inches, but some plants have been known to stretch up to 80 inches.
Clearly, growing Zkittlez seeds should be your top priority, and this guide is going to help you do just that.
Yield:
Euphoric, happy, and unapologetically relaxed, the way you feel after hitting a bowl of Zkittlez is probably what it's like to taste the rainbow.
• 18-22%+ THC
• Harvest: 7-8 Weeks
• Yield: 400-500g/㎡
Named after Skittles the sweets due to its fruity taste and aroma, Zkittlez strain is the result of a cross between Grape Ape and Grapefruit. This Indica dominant strain (60:40 Indica/Sativa) produces multi coloured buds (another similarity to the Skittles sweets), that offer a strong euphoric high and mental relief.
Zkittlez feminized seeds, as the name suggests, produce a fruity yet tangy strain of weed that has Grapefruit and Grape Ape genetics in its ancestry. This feminized cannabis strain has a euphoric an uplifting effect and as grow time of 8-9 weeks.
You will truly taste and smell the rainbow of fruit flavours from this zesty strain that is one of the most flavourful strains we have ever witnessed. Zkittlez can arouse appetite and therefore is an ideal choice for people treating eating disorders but is also effective against headaches, nausea and chronic pain. The effect has a very fast onset and will result in nice levels of physical relaxation without complete couchlock.
Zkittlez feminized seeds from Blackskull produce a medium sized plant which can easily yield in excess of 550g per m2 indoors and over 800g per plant outdoors. The THC levels have been measured at an impressive 23% with CBD levels below 1% making this a very strong psychoactive cannabis strain.