When it comes to cultivating cannabis indoors, you need to be sure to provide your plant with the optimal temperature, humidity, air circulation, CO2, and nutrients.
Cleanliness in an indoor garden cannot be overstated. Clean your entire grow room before your first grow cycle and after every harvest. The walls, floors, trays, irrigation lines, reservoirs, lights, and fans should be cleaned using a three to five percent (3%-5%) hydrogen peroxide solution, an efficient sterilizing agent that leaves no dangerous or toxic residues behind. Be careful what you bring into your grow room. Pets, dirty clothes, and contaminated clones can introduce unwanted pests and diseases.
Soil is a great choice for beginners. It can be much more forgiving and requires less precision when watering and feeding plants. Less-frequent watering and a stable pH foundation can drastically increase the likelihood of a successful first harvest. Soil also contains beneficial microbes and nutrients that help keep plants healthy, though it also creates favorable conditions for pests, mold, and mildew to spread. Working with soil and hand-watering plants can also be messy, but it will allow you to get familiar with the pace in which your plants consume water and nutrients.
Creating the ideal environment
Always make a list of the power requirements for each piece of equipment and make sure your electrical panels can support the electrical load before you make any big equipment purchases.
Feeding your plant is the process of giving it the chemicals and compounds that it needs to grow out its leaves, roots, and ultimately produce the heavy, trichome-covered flower clusters called colas. There are two main types of feeding systems: drain-to-waste and recirculating.
Ultimately, the costs of equipment and recurring utility bills are more expensive than in outdoor and greenhouse settings. However, specialized indoor cultivation equipment allows cultivators to achieve multiple harvests per year and a more reproducible product. If you're detail-oriented and technologically inclined, indoor gardening is a fun and rewarding pastime, or could even be a full-time job.
Tips for success
Soil can be much more forgiving and requires less precision when watering and feeding plants additional nutrients. Photo by: Gina Coleman/Weedmaps
Correct lighting is crucial, as it drives photosynthesis. In other words, your plants will not grow properly without proper lighting. Photo by: Gina Coleman/Weedmaps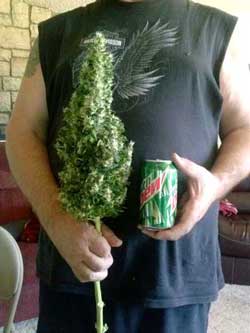 Many of us have seen Miracle-Gro used around our homes, so we know that it works for 'regular houseplants'. Cannabis is just a tough weed, so Miracle-Gro nutrients should work great for it, too… right?
Avoid Miracle-Gro! Do not use "Miracle-Gro" soil or any soil that has "extended-release" nutrients for growing cannabis. These types of soil will continue to release nitrogen to your plant roots for up to 6 months. This can cause deficiencies or burn your cannabis plants in the flowering/budding stage, reducing your overall yields. I have seen growers successively grow cannabis in Miracle-Gro, but many of them struggled with nutrient problems in the flowering stage.
Follow the Earth Juice nutrient schedule used by Endive in his 9.3 oz LED grow journal.
Option 2: Compost or Purchase "Super Soil" – For those who don't want to worry about soil pH or adding nutrients throughout the grow, there is the option of amending and composting your own super soil (or buying it already composted) specifically made for cannabis plants. While this option takes more time before you start growing, it can be somewhat simpler especially for those who have composted soil in the past.
Don't want to use nutrients? Learn how to mix up your own super soil so it has all the nutrients your cannabis plants will need! Bonus: With composted super soil made using the recipe in the link above, you don't need to worry about maintaining your pH! your super soil will automatically manage the pH for you.
Note: Some growers believe growing in organic composted super soil with a rich microbial life can actually improve the taste and smell of cannabis by causing a plant to produce higher levels of terpenes and terpenoids.
Soil Pros for Growing Cannabis
Soil Cons for Growing Cannabis
Bigger containers hold more water and therefore give growers more time away, since constant watering isn't needed. In the best-case scenario, it is always best to check on your plants at least once a day. You never know when a pest infestation will take hold, a plant will fall over, or some other unexpected event will happen.