300 gr/m²
alt="GRAPE OG – 6 SEEDS" />GRAPE OG – 6 SEEDS
alt="Louis XIII OG – 6 Seeds" />Louis XIII OG – 6 Seeds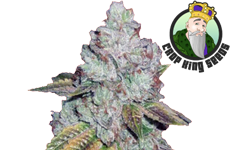 Tahoe OG plants give a good amount of stretch during veg. However, they tend to bulk up horizontally during flower — especially if you've been regularly training the canopy with SOG or SCROG methods.
Adding to the confusion, there's another popular strain called Tahoe OG Kush created by Cali Connection. Tahoe OG Kush is a cross of an OG Kush phenotype with a specially selected SFV OG Kush F3 pheno.
There's nothing quite like the bag appeal of some of the West Coast's finest OG. If the sight of rock-hard dense indica buds covered head to toe in beautiful resin doesn't make you drool, what does?
Dominant Cannabinoids Found in Tahoe OG Seeds:
Far from being a one-trick pony, Tahoe OG's frost-covered buds are some of the loudest you'll ever pack in a bowl before finding yourself laid out by an array of wonderful effects.
Tahoe OG's lime green calyxes spiral like fiery helixes while vibrant pistils reach skyward.
Even if you don't live at 7,500 ft elevation in the Lake Tahoe wilderness, you can still take maximum advantage of growing Tahoe OG seeds by following a few simple grow tips.
Yield:
Tahoe OG has an 8 to 10-week flowering time, with most growers reporting about 65 days on average.
Far from being a tricky strain to grow, popping Tahoe OG seeds is more about paying attention to macro details than fretting over feedings down to the trace nutrient.
Tahoe OG is the ultimate in relaxation, wrapping the patient in a fluffy blanket, and is a perfect addition to your healthy sleep routine. Of course, along with the uplifting, mood-elevating effects is the tendency to induce a serious case of the munchies – make sure you have lots of healthy treats on hand for the inevitable night time snacking!
The moniker may bring to mind visions of the lake of the same name, and smoking it might take you there, as the aromas are predominantly pine, with sweet, lemony notes that are equally earthy and spicy. Your taste buds will be piqued by its lemon-y inhale, which drifts into pine as you breathe this smoke out.
Tahoe OG is the ultimate in relaxation. Wrap up in a blanket and nod right off…but this strain also offers lovely uplifting, mood elevating effects with a side helping of the munchies.
Description
Indica dominant with a high percentage of THC (20%) Tahoe OG marijuana is the kind of strain that has nothing but positive properties. Often touted as the strongest of all its kush relatives, it has become a staple for both recreational and medical connoisseurs for reasons you'll understand once you add them to your marijuana seed collection.
Medically speaking, Tahoe OG is a strong tranquilizer, and has become a powerful ally for patients treating sleep disorders and restlessness. It relaxes the body and mind and is great for soothing muscles and brain that just won't quit. This kush variant also features a moderate amount of CBD, which has proven effective in treating aches and pains.
We recommend this strain for intermediate growers, since Tahoe OG Kush tends to be a sensitive plant. A rigid regime of trimming and the right fertilizer are necessary to successful growth, though the silver lining is that it is quite resistant to common molds and mildews. If you're brave enough to attempt planting Tahoe OG marijuana seeds in your garden, you can expect a moderate yield of around 300 grams per plant after a standard 55-65 days flowering.