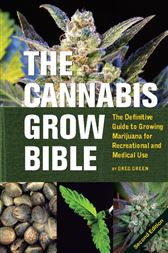 The definitive guide to growing marijuana just got better!
–>
Greg Green ,
Greg Green's original Cannabis Grow Bible set a new standard for handbooks on cannabis horticulture and established Green as the leading authority in the field. Green's comprehensive and professionally presented work on how to cultivate superior cannabis struck a chord with beginner, amateur and professional growers alikeleading to sales of over 55,000 copies of the first edition of the Cannabis Grow Bible.
The Definitive Guide to Growing Marijuana for Recreational and Medical Use
In the Cannabis Grow Bible, Green describes methods for growers who want to maximize yield and potency. Green's signature style blends a solid understanding of marijuana botany with practical real-world advice to help growers cope with the day-to-day demands of maintaining a high-yield garden. The book covers everything from selecting the best plant genetics to dealing with pests and predators and protecting your crop from prying eyes. It explains the "Screen of Green" technique that gives a higher yield using fewer plants, an important development for American growers who, if caught, are penalized according to number of plants.
-SOIL CONTROL-ph CONTROL-SOIL FLUSHING-NUTRIENT CONTROL-FEEDING-AIR-HUMIDITY-TEMPERATURE-FANS
This book has been written under adverse conditions. In mostcountries it is illegal to own seeds, grow cannabis or use cannabis.Maybe it will change for you one day if you make the effort to haveyour voice heard. Until that day comes it is recommended that youconsult your local authorities to see what is your countries legal statuswith regards to growing cannabis. This book does not want you tobreak the law nor is it here for that purpose. This book is aboutcannabis and how it is grown around the world. Even though thecontents of this book may show you how to acquire seeds and growvery potent plants, you are responsible for your own actions. We wouldlike to see you grow cannabis however we would not like to see youbreak the law.
-INDEX OF PESTS-CLEANING THE GROW ROOM
Chapter 3 :PROPAGATION
-LIGHTS-LIGHT BANDS-POOR LIGHTING SYSTEMS-AVERAGE LIGHTING SYSTEMS-BEST LIGHTING SYSTEMS-HORTICULTURAL LIGHTS – HID-WHAT TO LOOK FOR WHEN BUYING A LIGHT-WATTAGE AND LUMENS-LUMENS AND MARIJUANA GROWING-LIGHTING FACTORS AND HOW TO GET THE MOST FROMYOUR LIGHT-SOIL-pH-NUTRIENTS-SOME COMMON SOIL TYPES-POTS-CONTINUING YOUR INDOOR SOIL GROW-INDOOR VEGETATIVE GROWTH-WATERING-ADJUSTING YOU LIGHTS
This is a book about growingcannabis, written by people who
thank you to the members ofwww.cannabisX.com and