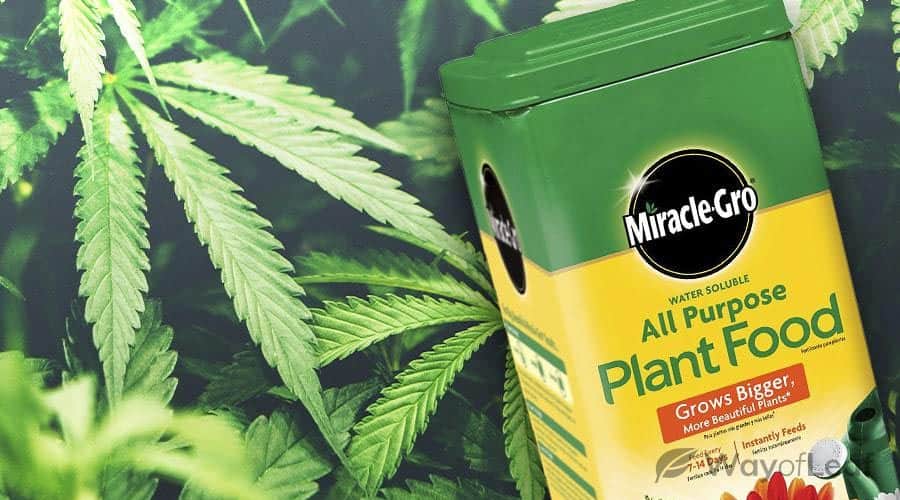 The main issue with MiracleGro is it provides one formula of nutrients used throughout a plant's life cycle. Weed plants go through several different stages through their growing cycle, from seedling to full flowering. In each of these stages, the plant needs a different combination of nutrients to ensure the best possible growth. MiracleGro doesn't offer various combinations of nutrients; rather, it provides a one-size-fits-all approach. Initially, this may help your plant, but it won't help for all stages of the plant grow-cycle.
If you are looking to grow your own cannabis plants, it makes sense you want to give your babies every possible benefit. Just like parents with their children, your plants quickly become your pride and joy, which you want to see grow big and strong. As such, you may be tempted to use a little MiracleGro to lend a boost. After all, it's bound to help. It's in the name, right?
MiracleGro has an extended-release of nutrients. This means it will continue to release nitrogen for up to six months, leading to deficiencies, or even burning your marijuana plant in the flowering stage, which would reduce your yield dramatically.
Can MiracleGro Help Growing Marijuana?
What do you think of using MiracleGro to fertilize cannabis? Are you one of the few who have used it successfully? Do you have a better fertilizer not mentioned here? We'd love to hear about it in the comments below.
Some growers do report using MiracleGro successfully, but it is the minority. Those who find success commonly use vastly watered down amounts of MiracleGro. All in all, it is just easier and safer to avoid using it altogether. You don't want to ruin all of your hard work when you don't have to.
What Is MiracleGro?
You can minimize the use of fertilizers in marijuana cultivation to a point by picking breeds with strong genetics and utilizing as perfect a growing environment as possible. Despite this, you will most likely need some fertilizer at some point, especially when you are just starting out.
MiracleGro is probably the most famous plant food in the world. The fertilizer was first developed in the late 1940s by Horace Hagedorn and Otto Stern, who also came up with the distinctive packaging and name, which are still in use today. From here, it has become a household staple in the fertilizer market, beloved of horticulturalists around the world.
Your first feeding should be 1/2 strength, don't feed it too early, etc, etc.
In my experiences using MiracleGro, I've mixed 1 tablespoon/gallon of the of the crystal-like fertilizer with water. I've used that for years now for weed plants and in my veggie garden. Thats full strength. Feed it every 2 weeks throughout vegging and switch to whatever you want for flowering.
And I kinda think that many people on the forum have no problems with MG fertilizer and actually it is used quite a bit.
On the other hand, MG soil isn't recommended for new growers because it comes with slow release nutes in it.. which usually means that the over-ambitious noobs burn the plants because they've had no experience dealing with this problem before.