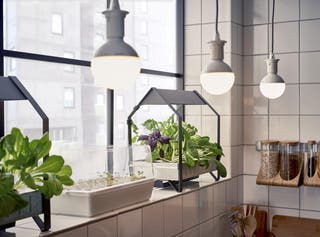 Grow cycle: 2 weeks (but no seeds provided)
By registering, you will also enjoy limited access to Premium articles, exclusive newsletters, commenting, and virtual events with our leading journalists
What's included: only equipment
What's included: 6 sewn plugs (includes 3 lettuce, 3 basil), 250ml bottle special nutrients
Harvy cultivation box: £51.44, Blomster Landet
Grow cycle: approximately 40 days (5 weeks)
The pots come with detailed instructions on the types of plants you can grow and the best methods of growing, but you are also free to experiment, and flowers work too, such as hyacinth. You can grow things to eat, but in smaller quantities than the other units. We think an assortment of the pots would look great arranged on a shelf. An added bonus: they're dishwasher safe.
The kit is extremely easy to assemble and use: we particularly like the adjustable light panel, which can be moved up and down as the plants grow taller, the pre-sewn plugs, which can be placed straight into the unit and are mess-free, and the inbuilt pump, which circulates the water several times a day to prevent sediment buildup for healthier plant roots. We encountered a problem with some of the plugs: the parsley and thyme failed to sprout at all (on their website Miracle-Gro says it will replace dud pods free of charge), while both species of basil grew much faster and taller than the others, eventually blocking out the light for the dill and mint, stunting their growth. The basils also grew taller than the light panel, and were burnt where leaves touched the light.
Growgreen hydroponic tube: £44.99, Amazon
It can be a bit fiddly to replant the delicate seedlings, which are grown on plugs made from stonewool (absorbs water and provides a good base for the roots), into the baskets with pumice stones without damaging them. We found we didn't plant the plugs deep enough and some of the roots were exposed, which meant the plants could not support themselves and fell over. However, things get easier once the seedlings have been replanted as there is a water level and a funnel to make topping up easy. The red/blue LED light means you can grow all year round, but doesn't come with an integrated timer.
Grow cycle: 2-3 weeks for coriander, 4-5 for tomatoes (but no fruit)
Basket Subtotal: £282.39
(looks like what you suggested).
EDIT : WHAT I WENT FOR :
current budget is around £300.-
this looks like a pukka deal that any new comers might be able to jump on. (like me). but need some expert input
would the basic package be good for a "starter" kit that can be upgraded over time? or are the parts not worth the material there made from?
how mad would i be with this?
i would like 2/3 plants so would i need to upgrade the LED? or would it give good coverage. (and is this a good LED? i cant work out how to tell if there any good). and would the 60x60x140 be enough space?
hey man. so i brought my bits and pieces from amazon,