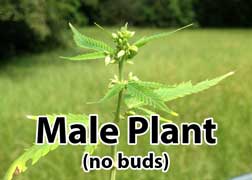 Since I started growing cannabis nearly a decade ago, I've only grown with feminized seeds! I've never had a single plant that didn't grow buds!
How Do Breeders Make Feminized Seeds?
"Regular" (or non-feminized) seeds will produce about half male, and half female plants.
Pros of Feminized Seeds
Feminized cannabis seeds are produced in a way to make sure that all the resulting plants are female (since only female cannabis plants make buds).
Seed Supreme is a trustworthy source of feminized cannabis seeds (it's the company I use for seeds)
The way breeders create feminized seeds is they breed two female cannabis plants together, which means that all the resulting offspring will be female. This is done by spraying developing flowers with a substance that changes flower development (often colloidal silver or gibberellic acid). This process is used to force one of the female plants to start producing pollen sacs just like a male plant.
You can buy weed seeds online and do so safely, easily, and for a bargain price. Half the battle though is compiling a list of the best-reviewed cannabis seed banks and then choosing which one seems right for your project.
13 Best Seed Banks That Ship to the USA (and beyond)
In addition to growing guides, forums, and journals, they have deals like Buy 10 Seeds, Get 10 Seeds Free, free shipping, guaranteed delivery, guaranteed germination, and multiple coupons.
2. Crop King Seeds – Best Marijuana Seeds Genetics
Pros