Growing cannabis with CFL lights is simple to set up and maintain. Each plant will require around 80 watts of light, although more can be better. Since CFL light bulbs for plant growth don't produce enough light exposure beyond around 12 inches, the lights will have to be adjustable with height to account for plant growth.
Since CFL lights are only optimal up to about 12 inches below the light, it's best to train your plants to grow horizontally instead of vertically. Topping your plants and tying them to grow more laterally is the best way to ensure your plant can grow large without being too tall for CFL full spectrum grow bulbs.
CFL Light Bulbs For Growing Weed
The sun produces about 100,000 lumens per square foot, so the closer you can get to this number, the more productive your marijuana plants will be. Building a hood for your CFL lights and concentrating them as close as possible during flowering will help mimic natural sunlight as much as possible.
Pros & Cons Of CFL Lights For Growing Weed
CFL is an acronym for compact fluorescent lighting. Compact fluorescent grow light setups are easy to build out because you can buy CFL grow bulbs at almost any store that sells light bulbs! They are just like fluorescent light bars seen in stores and offices but packed into a small lightbulb, allowing the user to reap the benefits of fluorescent light without a large lamp setup.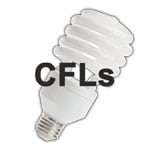 Each additional plant needs an additional container, coco and 5 more CFLs and light sockets, for an additional setup cost of about $100/plant.
Time to Harvest: An average CFL cannabis grow takes about 12 weeks from seed to harvest. Some strains (like auto-flowering cannabis strains) can be ready as soon as 8 weeks from seed. With other strains, you may need 14 weeks or more to get to harvest (learn how to get to harvest sooner). Strain choice is very important when it comes to timelines! Learn how to find the right strain.
Startup Cost: Around $300 to get started
(materials listed here)
I usually stop feeding my cannabis nutrients and start feeding them water when about 75% of all the pistils (hairs) have turned dark and started curling in towards the buds.