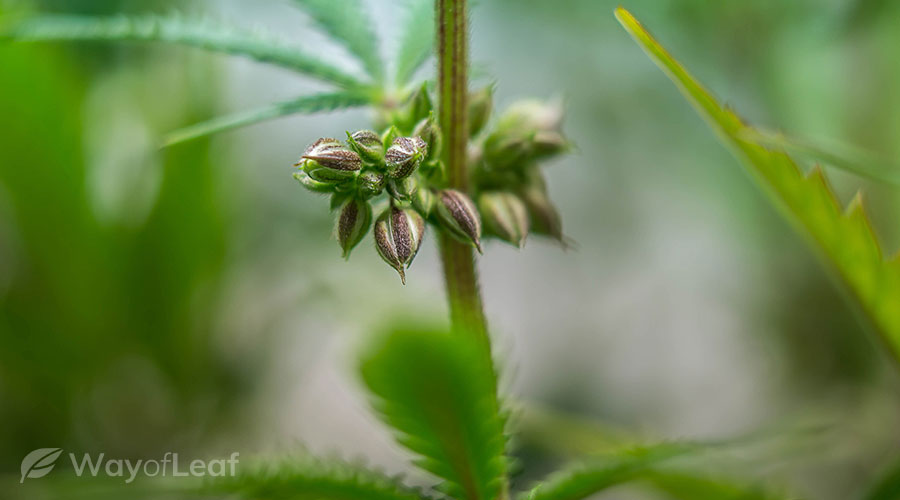 If you elect to clone, you need a mother plant. It's possible to buy clones from your local dispensary. However, bear in mind, clones require at least 16 hours of light a day to ensure that they don't flower.
Other signs that it is time to harvest include brown resin on the buds, a broader stem, and if the leaves of the plant begin to turn yellow and die back.
The growing process can take anywhere from two months to 8+ months. Your plants are ready to be harvested when approximately 70% of its pistils turn from white to a reddish-brown color. If the pistils are turning red, harvest immediately!
If you live in a warm climate, be wary of excessive heat damaging the roots. It is normal for container-grown pots of soil to exceed 90 degrees on a hot day. Always water the plants generously in the morning to ensure they don't dry out during sweltering afternoons.
Cannabis Seeds vs. Clones – Choosing the Best Seeds on the Market
Climate is all-important when growing cannabis, with the primary concern being the amount of available sunlight. While this isn't a problem in sun-kissed California, not every American state has the same luxury. However, don't assume that glorious sunny weather is perfect for growing flowers.
When choosing the right soil, bear in mind that it is made up primarily of clay, sand, and silt. Your plants require slightly acidic soil with organic matter that has been adequately drained. Therefore, you have to test the soil if you intend to plant your cannabis directly in the earth.
One of the main advantages of container gardens is that you can place them anywhere. Therefore, you can grow your weed on a patio or even on a rooftop. Make sure you move the plants around to make the most of the available sunlight. You can also use store-bought nutrient-rich soil, which simplifies the fertilization process.
Step #9: Cut Your Cannabis Plants Carefully
Typically, seeds only begin to germinate when exposed to constant temperatures of 65 degrees Fahrenheit. Experts suggest keeping your plants indoors for up to four weeks before bringing them outside when the weather is more suitable.
You must be careful not to wait too long to harvest because marijuana plants suffer a decline in health once they have completed the flowering phase.
Some cannabis genetics have adapted to specific climates and are capable of growing more easily in certain conditions than others, so pay very close attention to the cultivars, or strains, that you choose. A little research will go a long way in ensuring you have a successful harvest.
Using Mother Nature to cultivate cannabis
Becoming intimately familiar with your local climate and seasons is one of the most important steps in producing high-quality outdoor marijuana. Before you grow, you'll need to know the ideal temperature your plants require in order to thrive, the best site, optimal timing of planting and harvesting, and the season's photoperiod — the amount and intensity of light available through the duration of the growing season.
Temperature
Whether using seeds or clones, many cultivators start growing their plants indoors to ensure they are not exposed to damaging weather conditions as they develop their initial root system. The plants can be transitioned outdoors when the weather and light conditions are ideal. Extending the indoor vegetative growth period can help increase yields and allow growers time to select the best plants to be moved outdoors.