Light: 2,200k. "For a closet set up, I would recommend a 175-watt HPS light," Lipton said. "Some people try to use fluorescent lighting, but I wouldn't recommend that. You're just not going to get a very good outcome. Nowadays, HPS lights can just go right into your home outlet, and you'd just need a timer [to set the intervals]. Position the light directly overhead. They can be pretty powerful, so you're going to want it at least two feet from the top of the canopy [to prevent the plant from overheating]."
To understand the flowering cycle, it's important to remember that cannabis is a plant. And, like most plants, it follows the seasons. To trigger flowering — which will take 55 to 60 days to complete — growers reduce the time plants spend exposed to the light source from 18 hours to 12. "You're basically telling your plant it's mid-September," Lipton said.
To harvest, many growers begin by removing the leaves of the cannabis plant with trim scissors, followed by the buds (using pruners). "We call this bucking," Lipton said. "Gloves are also extremely important for sanitation reasons as well as to keep your hands from becoming sticky with the resin from the plant."
Plant and maintain the vegetative cycle until the plant is mature.
Despite the hurdles, many first-time growers still choose to cultivate cannabis indoors (which is legal in Alaska, Colorado, Washington D.C. and Oregon), and there are steps to maximize a plant's chances of succeeding. It all starts with a plant's genetics. "For your typical closet setup, you're going to want a plant that stays short," Lipton said. "A lot of time that means an indica. Sativas are really tall and lanky." (More on the difference between those two families here.)
Relative humidity: 30 to 45 percent. "If you live somewhere humid, you're probably going to want to buy a dehumidifier," said Lipton. "In Boulder, we sometimes have to add humidity." At home, that can be done with a reliable humidifier.
Trigger the flowering cycle.
Another layer to consider is that cannabis cultivation must happen "out of plain sight." "You can't have any odor. If it's offending people in the neighborhood, then it's an issue."
Both medical and recreational dispensaries now sell female cannabis clones, which retail for about $15. Alternatively, it's commonplace for home growers to gift clones to their friends. "When you get a clone, someone will likely give it to you in a four-inch pot. You're skipping that whole step of having to germinate seeds. You're already 10, 14 days ahead of the game and basically ready to plant."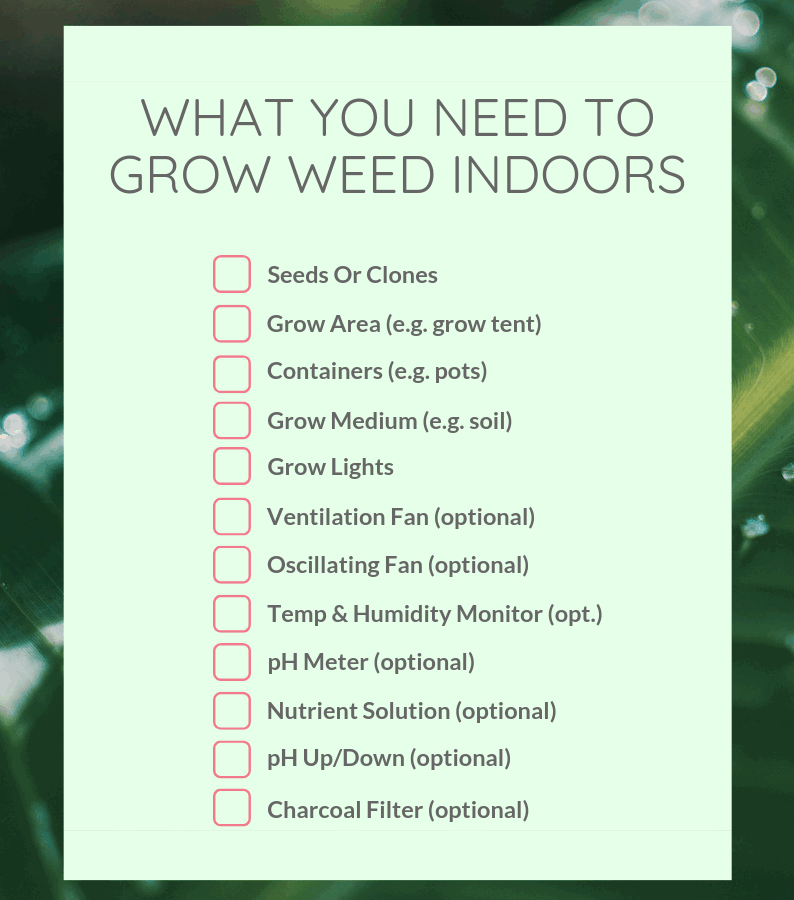 Each section will have general information and end with a recommendation box, where I recommend specific products, in case you are not sure which ones are any good.
Indoor Grow Room Checklist (Items Needed For Growing Weed Indoors)
If the mineral content is high, use nutrients that are made for hard water. If the water contains chlorine, you'll have to let it sit for 24 hours before using it, to evaporate all the chlorine.
Water
For timers, there is no need to go fancy. This single-outlet mechanical timer works great if you've only got one light. If you have more, you'll find plenty of timers with multiple outlets as well.