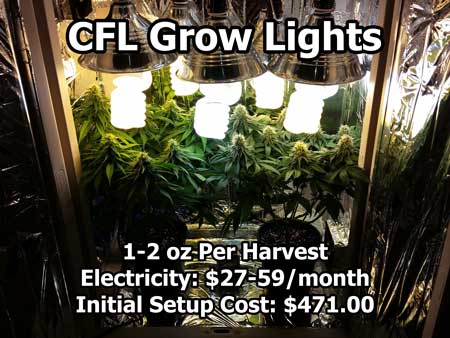 T5s are much bigger/wider than CFLs and usually come as part of a panel, but they can still be kept mere inches away from your plants without worrying about burning them.
Metal Halide grow lights are generally used for the vegetative stage because they produce a bluish light that vegetative plants love, though this type of light can also be used all the way to harvest.
Note: When shopping for LEDs, make sure they contain some amount of green or white (full spectrum) light. Plants grown without at least a tiny amount of green or white light are very prone to nutrient deficiencies and simply don't grow as well. Learn more about how light spectrums affect cannabis growth!
T5 grow lights are one of the most easily available types of grow lights and are used to grow many different types of plants. As a result, they're available in many garden and home improvement stores.
CFL grow lights are the twisty-looking bulbs you can find anywhere you normally buy light bulbs. They produce a great spectrum for growing cannabis and can be used in tiny spaces where no other grow light would fit such as the inside of a cabinet.
The type you choose is really up to you and the size of your grow room – T5s might work better in a slightly larger space. Either way, fluorescent bulbs are not as powerful as other lighting types. As a result, they are best for small grow rooms with only a few plants. Cultivating on a larger scale requires the use of HIDs or LEDs, for example.
Other Types of Lights
While fluorescent lighting may work for small-time growers with a handful of plants, you will need to invest in an upgrade if you're wanting to produce more marijuana. LEDs and HIDs are much better for getting a higher yield.
5. Hydrofarm FLCDG125D Fluorowing Compact Fluorescent System
The downsides of CFLs is that they are less efficient than more powerful lights. Furthermore, you may need to keep moving and repositioning the bulbs for best results.