Sandy soil is known for its large granular size and has a low pH. The issue with this type of soil is that it dries quickly and often experiences difficulties in moisture absorption. The nutrients also get washed away, and nitrogen, in particular, is lost rapidly from sandy soil.
Loam is, without doubt, the favorite weed soil of growers. It makes the best soil for potted plants and is probably the best soil for plants in general. It contains the right balance of all three soil types (clay, silt, and sand) along with humus. This combination ensures that loam has high calcium levels, but it also has a relatively high pH.
Loam Soils
If you try to use this kind of soil, expect to have difficulty in getting the plant's roots to penetrate the surface. Clay soil has a high pH. While it stabilizes plants, the soil is heavy and requires a lot of effort overall.
Buy Only the Right Soil for Your Cannabis Plants
The size of the containers you choose will dictate the size of the marijuana plant's root system. The more space the roots have, the faster they grow. You can expect problems to arise when the roots outgrow your container, so choose wisely! There is no need to go beyond a 10 x 10 x 10 cm container while your plants are still seedlings.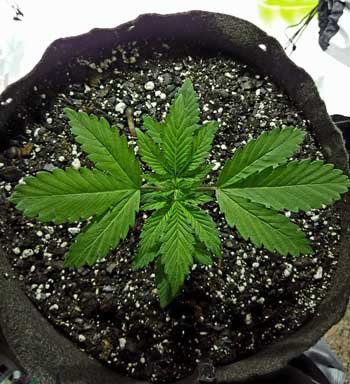 When it comes to growing cannabis in soil, unless you're using a brand that is known for making soil that is specifically cannabis-friendly, there are a few things that you need to consider before starting a grow.
Important Cannabis Soil Considerations
Super Soil has a colony of micro-organisms living in the soil which form a symbiotic relationship with your plant roots. They deliver nutrients to your plant, and in return they eat the sugars that get secreted by your roots!
Kind "Super" Soil (Living Soil)
When cannabis growers talk about "super" soil, they're usually referring to soil that has been amended with slow-releasing organic nutrient sources, and then composted for several months (learn more about super soil).