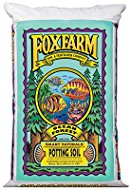 Their Ocean Forest soil mix is "hotter" soil (higher levels of nutrients) that contains ingredients that cannabis plants love, including earthworm castings, bat guano, fish meal and crab meal. The nutrients contained in the soil will provide everything your plant needs for several weeks. Although it might give young seedlings just a touch of nutrient burn at first, they can be started in Ocean Forest soil and will soon be able to use the nutrients and start growing quickly. Some growers might put a little big of Happy Frog on top of a container of Ocean Forest, just to make it a little more gentle for seedlings the first week or two.
The composting process creates a "living" soil that is full of microorganisms in the rhizosphere (area around the roots). Properly composted soil has nutrient sources that slowly break down over the course of your plant's lifecycle. It very closely mimics what happens in nature.
If you get the soil part right, you have almost everything you need to get to harvest! With the correct texture, drainage and water retention, you've got a perfect base. Add good soil cannabis nutrients, especially in the budding phase, and you should get to harvest with great results!
Fox Farm Ocean Forest Soil
Good Cannabis Soil
Another light, rich soil mix with great drainage. Although there is a wood chip in this picture, for the most part the mix is completely composted and broken down. It's normal to see some wood pieces in composted soil, but you don't want to have to wait for a lot of wood to break down while your plants are growing – you want all that rich nutrient goodness to be readily available to your plant roots
If you are willing to keep transplanting to bigger pots as your plant uses up the nutrients in the soil, you don't need to supplement with extra nutrients. However, even if you grow in the same pot from seed to harvest, Fox Farm offers a complete nutrient system that is also formulated for plants like cannabis and goes perfectly with their soil to make sure your plant is getting the right levels of nutrients throughout its life.
Example of happy marijuana plants in good soil!
Kind "Super" Soil (Living Soil)
Here's organic "super" soil up close
Now here are a few examples of good and bad cannabis soil so you can see the texture you're looking for!
Red's Premium is another all-in-one, ready-to-use soil blend. But what makes it one of the best soils for weed is its stand-out feature: biochar. Biochar is an amendment that excels at protecting and promoting the growth of bacteria, fungi and other microorganisms that are essential for root development and strengthening your plant's immune system.
Fox Farm's specialized line of soils for cannabis are some of the most widely acclaimed grow mediums available. If you're beginning your grow journey from the ground up, Happy Frog is an excellent soil to nurture seeds and seedlings.
Still, Formula 707 has enough nutrients to last 10-14 days before you need to add anything. And for convenience, you can use the soil bag itself as a pot. Just cut off the top, poke some holes in the bottom, plant your seedlings and you're ready to grow.
Red's Premium Biochar-Based Soil
If you're planning on planting a large container cannabis garden outdoors, Roots Organics Formula 707 is a versatile and capable option. An organic soil designed with greater water-holding capacity, Formula 707 contains ingredients and beneficial microbes specific to using larger containers.
If you're digging through the literature on growing weed, you've probably seen the term "super soil" come up quite a bit. Coined by the legendary grower and seed producer Subcool, the term generally describes a neutral organic soil base that's been enhanced with a comprehensive range of "amendments," i.e., added nutrients and microorganisms. Using a super soil eliminates the need for liquid nutrients as your cannabis plants grow.
Fox Farm's Happy Frog Potting Soil
From planting seeds to harvesting buds, Nature's Living Soil's Organic Super Soil has you covered through cannabis' entire grow cycle. Reviewers love the ready-to-use simplicity this soil provides: just plant, water and wait. For those growing on their own for the first time, this is one of the best soils you can buy.
Cannabis plants spring up like a literal weed. But growing weed optimally — in a way that allows it to express its best traits and produce trichome-rich flowers — demands care, attention to detail and a bit of trial-and-error. At the same time, there's no better way to develop a closer, more connected and more rewarding relationship with cannabis than growing some yourself. To get you started, here's our list of the five best soils for healthy weed.