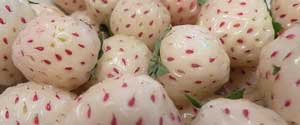 To understand why white strawberries are white, it is best to understand why red strawberries are red. In the life cycle of strawberries, the flowers turn into small, pea-sized green strawberries. They grow as small green strawberries until they reach a certain size and maturity. They then turn white. As they continue to mature, strawberries which are red when fully ripe make use of proteins to turn from white to red.
White Strawberry Allergy?
There are multiple types of white strawberries. White strawberry varieties include white subspecies of Fragaria vesca (more commonly known as the Alpine Strawberry); Fragaria chiloensis (more commonly known as the Beach, Coastal, or South American Strawberry); the Pineberry; and few others. A brief overview of each of the major types of white strawberries follows:
Types of White Strawberries (White Strawberry Varieties)
Why not take the plunge for your garden this year? Research the various types of white strawberries, map out some garden space, and take the plunge! Planing new fruits might just allow you to find a new favorite. Taking a chance on some of the varieties listed on this page will most likely turn out to be a good decision…a very good decision indeed!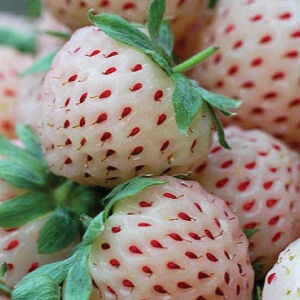 Strawberries are frequently grown from bareroot, which are seeds that have developed and grown into roots, which are then easier to start in a garden. However, it is possible to start strawberry plants from seeds as well.
Shipping Schedule
Before Planting: Bareroot strawberries can be planted at any time, strawberry seeds must be started indoors in to ensure they are ready to go when it comes to their normal growing season. To ensure strawberry seeds will grow when you plant them, you must first stratify them. To do this, place the strawberry seeds in an envelope or sealed plastic bag and store them in the refrigerator for a month.
Our Seed Promise
Harvesting: When they are ready to harvest, cut the berry off at the stem. Do not pull the berry from the stem to harvest it. Unwashed strawberries can be stored in the refrigerator for three to five days.